Meet Cherie and Susan:

Cherie Parker and Susan Truluck, are sisters and working mothers with busy kids. Cherie is a Nurse Practitioner and Susan an Occupational Therapist. 

Why and When Did You Start Your Business?
Heartland Healthy Heads is a full service head lice removal facility. We recognized a need in the Kansas City area for this service. As healthcare professional it just seemed like a good fit or us as we started the journey of being entrepreneurs. At first, we planned this to be a second job, and a fun learning experience. Now this is our main business, with 2 locations and a third one to open this summer.

What Obstacle(s) Did you Overcome?
Learning the business side of things was a challenge for us. We quickly recognized our weakness and took the Kaufman Fast-Track program for entreprenuers. This helped us tremendously and we started to grow quickly after making a plan for our second location. Seems like we made every marketing mistake we could.

Where Did You Find Support?
We got a business education from Kaufman Fast Track Program and the Johnson County Community College- Small Business Center. Many friends and family helped with promoting our business.

What has Been Your Biggest Challenge in Balancing Work and Family?
We knew it would not be easy to start this business and are glad our families our very supportive. The first couple of years we seemed to never be home. Our families really thought we were crazy when we wanted to open our second location in Liberty, Missouri. Being organized and setting boundaries are the most important. This was so hard the first year, we never wanted to say no anyone needing our services. At the same time we never wanted to miss anything our kids were doing.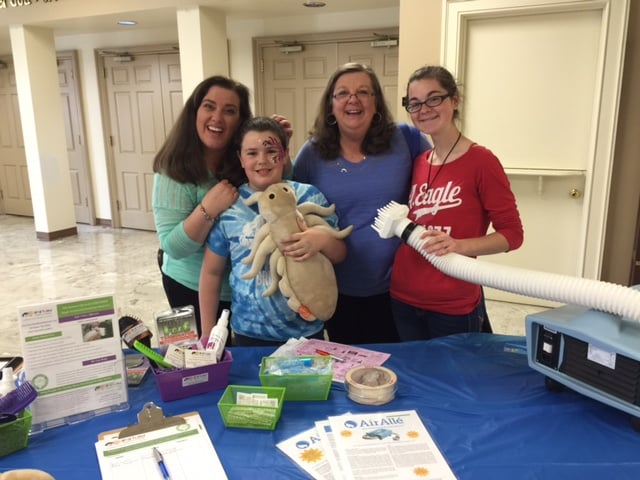 What Tip(s) Do You Have for Other JoCo Moms Who Want to Start a Business?
Learn the business side of things before you open. Have a business plan in place. Also learn everything about your business you can and be willing to adapt and adjust as needed. Since starting, we have been to head lice conference, something we never new existed. We became preferred providers for Lice Clinics of America and know head lice professionals all around the country. Nothing goes exactly as planned.
Last learn to laugh at yourself and have fun!

We have a very unique business and offer a needed service. We have found that being a resource for the community has be so rewarding. Building relationship and helping the community has been great to establish our business in the community. We work directly with school districts, foster care programs, day cares and get referrals from physicians offices. Our community service is the #BeLiceFreeInKC initiative to provide free education about head lice to any group or organization in Kansas City. To learn more about Cherie and Susan and Heartland Healthy Heads, visit www.heartlandhealthyheads.com