There are so many great things to do for FREE in our community! Get out of the house and Find Your Family Fun®.
Bring the kids to Tomahawk Ridge Community Center for a free concert with Mr. Stinky Feet Jim Cosgrove.
Kids can build a free wooden birdhouse to take home. Register in advance online.


Overland Park residents can stop by one of the 3 Overland Park locations to get a free tree or shrub sapling to plant in at home.


A day of free food, exhibits and activities designed to entertain and educate all ages at the All-University Open House.


Learn how to make greener choices in your yard and home. Green ideas, products and services. Free soil test. Directions for taking a soil test can be found at johnson.k-state.edu. Native plant sale. Door prizes. StoneLion Puppet show at 10 am. Free kids crafts 10-11 am


WANTED: All cowboys and cowgirls. We need us a posse to help cut this here ribbon on the newly reconstructed Dodge Town in Antioch Park. Roundup is at 10:30 am, followed by lunch at the chuckwagon. Ya'll are sure to get yer fill as we'll be serving up little doggies, chips, a cookie, and a cool beverage (water) to wet your whistle! Be sure to visit the jail and meet the Marshal as he'll be handing out special deputy badges. We hope you can mosey on over to Dodge Town and join us! Children are encouraged to dress the part, but not required.


Have you ever wondered what the inside of that big rig or tractor looks like? Do you have a child who loves trucks? Bring them out to the park to explore trucks, tractors, construction, and city vehicles up close. Crawl, climb, and sit in the driver's seat and talk with the real-life operators of these vehicles. Be one of the first 100 children and get a free construction worker hat! Suggested donations of $10 per vehicle will be accepted and proceeds from this event benefit JCPRD Special Populations/Special Olympics.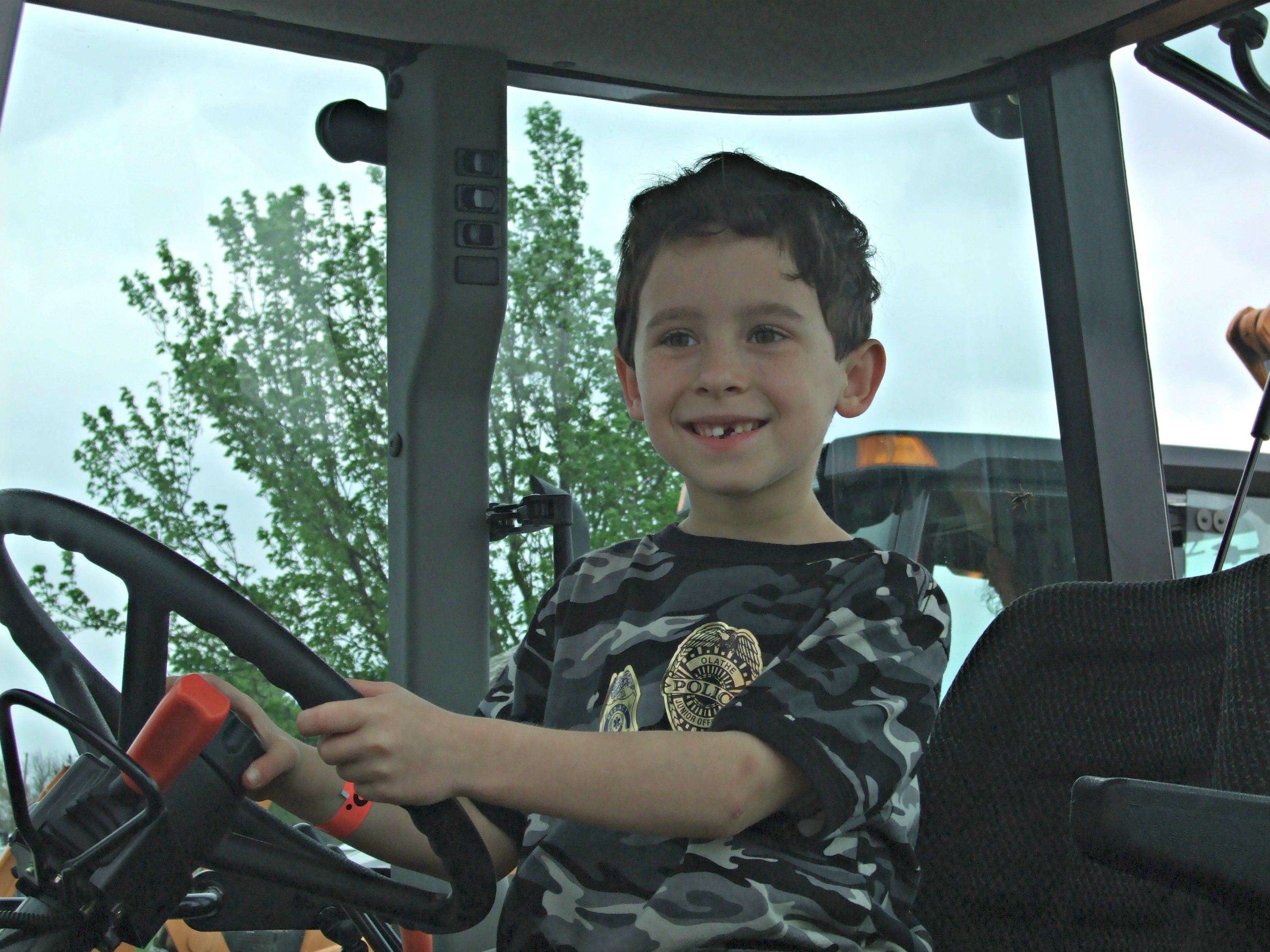 Shop fresh produce, meat, flowers, specialty products and more from 70+ vendors! Live entertainment under the clock tower
Enjoy the shops, restaurants, live music and fun!
April 21 - 2018 Recycling Extravaganza (Overland Park)
You can recycle almost everything! See the complete list.
April 21 - Earth Day at the Farmers' Market (Downtown Overland Park)
How much food do you waste? Studies show that almost $650 worth of food is wasted per household annually! Come learn how your family can reduce the amount of food waste produced each year from the Johnson County Department of Health and Environment, Compost Collective KC and After the Harvest KC. Activities Include: Enter to win one of three residential compost bins from the Johnson County Department of Health and Environment ($125 value).
Kids' activities with Compost Collective KC. Look for Market vendors wearing "Buy Ugly Produce" buttons as a reminder that your fruits and veggies don't have to be beauty queens to be nutritious and healthy for you and your family.
April 21 - Earth Day / Arbor Day Celebration (Gardner)
Help clean up the Gardner Greenway Corridor followed by a free hot dog lunch. There will also be a drawing for prizes like free trees, t-shirts and more! RSVP.
April 21 - Whirlwind: Art in Motion Opening Ceremony at the Arboretum (Overland Park)
Everyone is welcome to enjoy lemonade and sweet treats while viewing the sculptures (complimentary with Arboretum admission, refreshments limited to first 300 visitors). Mayor Gerlach will introduce the Whirlwind exhibit and the artists will be present to answer questions and discuss their sculptures. Docents will fill in with even more information about the Arboretum and gardens.
April 21 - Bonding with Board Games at Indian Creek Branch Library (Olathe)
Denise Dias from the K-State Extension Office will teach families how to play Euro Board Games. Euro-style games emphasize strategy while downplaying luck and conflict. Playing these games as a family creates a positive environment for communication to happen and relationships to grow. Families are invited to attend together. Drop in for a while or stay the whole time.
Stop by to enjoy family-friendly activities with an emphasis on the "Four R's - Reducing, Reusing, Recycling and Rotting


April 25 - Junior Makers at Olathe Downtown Library (Olathe)
For 1st to 5th graders. Do you enjoy making things? Join us for the Junior Makers program where you will have the chance to explore STEAM and create. Each session will feature a different project and the chance to learn something new! Programs will last about an hour. MAKER MASH-UP (Various materials on hand to make with) *Registration begins Apr. 16



Bring the family out and spend the day exploring the Mildale Farm property during this free public event. Arts and Craft activities for the kids will take place in the main barn. Catch-and-release fishing in any or all of seven ponds within the 158-acre area will also be offered, so bring your own bait and tackle. While District fishing permits have been waived for this event, KS residents ages 16 to 74 and nonresidents 16 and older need to have a Kansas state fishing license. Restrooms will be available, but the property's two homes and other outbuildings will not be open during this event. Remember, no alcohol is allowed, pets must be on-leash, and vehicles must remain on roadways.
April 28 - Daffodil Day (Spring Hill)
Fun for the entire family! Nature activities, crafts, games, face painting, live performances, concessions and more!



Choose from several activities during our annual Open House: canoeing, kayaking, pedal boating, hiking, BB gun shooting, and archery. Participants need to be 8 years or older for the BB gun and archery range activities. All ages are welcome to participate in the Family Fun Treasure Hunt from 11 am - 2 pm. Fishing is also available, however, participants age 16 and older are required to have Kansas fishing license. Licenses will not be sold on site. Cops n' Bobbers will be on site with poles and bait available for use or you may bring your own. An open climbing event for interested parties ages 12 and older will be held. Climbers need to pre-register as space is limited. Climbing participants are required to complete medical and liability releases prior to participating. Children under the age of 18 must have parent or guardian's signature. Climbing enrollment is limited to 40 people and you must register in advance.


April 28 - Arbor Day Tree Planting Ceremony at the Arboretum (Overland Park) * free with admission
Help us celebrate Arbor Day! Arbor Day celebrates planting and nurturing trees. You will help us celebrate by planting an Arbor Day Tree, then take a sapling home for your yard so that you can celebrate for years to come. No registration needed, all ages welcome.