Meet Morgan:
I have always known that I wanted to be a mom.  It was one of those things I just couldn't wait for.  My husband and I got married a year after I opened the gym (we were very young, 21 and 22) and had our first child about 18 months later.  I entered mom-hood with a very open mind - assuming I knew nothing, and in reality I knew nothing - so it worked out.  Becoming a mom changed my life and improved my coaching.  I was able to see the bigger picture when actually raising my own children and working with my "borrowed" athletes.  I was ready to have another child when Grant, my oldest, was 9 months old. My husband was not, so we waited.  I now am mom to Grant (9), Adam (6), and Reese (4).  


What is Your Business? When and Why Did You Start it?
I own Pinnacle Gymnastics, a gymnastics studio serving the Kansas City metro and offering classes for crawlers through adult.  I opened in August of 2005 right after graduating from KU with a business degree.​I was a competitive gymnast for 9 years.  I ended my competitive career when my coach retired.  I bounced around to a few other gyms in the metro over the next few months, but never found a home. The only thing I ever really wanted to do when "I grew up" was own a gym.  I had been to the other gyms in the metro and knew I had a different philosophy to share with young athletes.  My mission is to help children reach their physical and mental potential through gymnastics.  To do so, we create a welcoming environment that teaches our students through creative lesson planning - sometimes it doesn't even look like gymnastics.  As our athletes improve and age, we maintain a healthy home, school, gym life balance to retain happy gymnasts as long as possible.  "It's not the hours you put in, but the work you  put in the hours."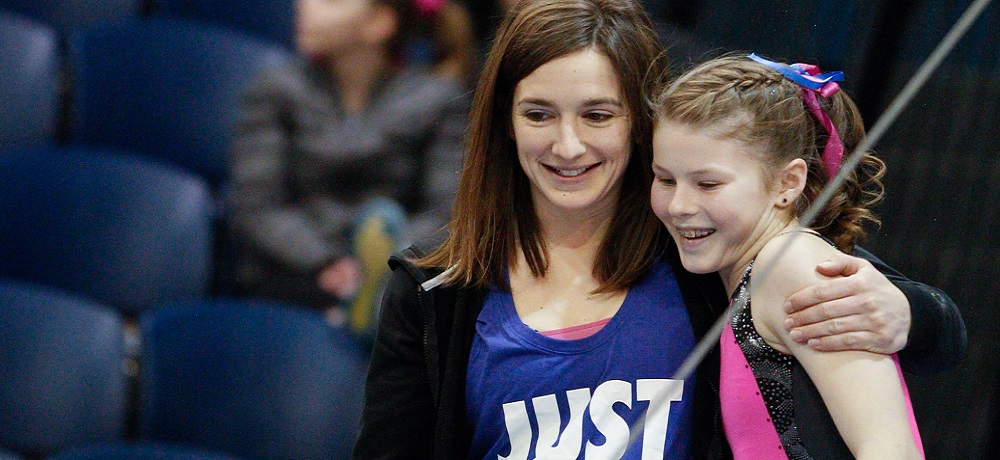 What Obstacle(s) Did You Overcome?
One of the largest obstacles I had to overcome when opening the gym was a lack of assets. As a young college graduate, I didn't have a house, retirement plan, or other major investment for banks to use as collateral. I went to so many banks! I finally found a bank that allowed me to count my equipment as collateral - which was the majority of what I would be purchasing with my $50,000 loan. In addition, I found a sympathetic landlord that had been in my shoes before. He allowed me to sign my personal guarantee on my own - signing away my laptop and all its glory. Pinnacle would not exist today if it weren't for finding the bank and the landlord that had enough faith in my business plan and me to take a chance on financing Pinnacle.
Where Did You Find Support?
In the early stages of my business, I found support from other local businesses. I became friends with the owner of the UPS Store, Pam Cooper, who helped me market my business in Western Shawnee. I also had a screen printer next door to help get my logo on apparel. In addition, my customers provided me with a great deal of support. I started with around 75 students - about 10 of which I had coached at a previous rec center. The parents of the first team I coached at Pinnacle helped me with so many projects - including building our spring floor and organizing an open house. It was truly a community effort. Now, I find help all around me. I have family that helps with the kids while I coach. Without my carpool groups - I don't think my kids would make it to all of their activities. I do feel like no one knows what it is like to be in my shoes, but when I talk with other moms I discover that we all are trying to balance our lives in a way that is best for our families.
What Has Been Your Biggest Challenge in Balancing Work and Family?
There aren't enough hours in the day! I have an odd schedule - to say the least. I coach three evenings and Saturday mornings each week. January - April I travel for competitions on the weekends. I am constantly trying to create "super-humans" as I call them - both my own and at the gym. As my children have gotten older, I have found it even more important to map out my time at the beginning of each week. When I have time with family - I make an effort to be off my phone, away from the computer. The same is true when I am at work. When I am working - I try to be as productive and committed as possible so that my athletes' and business' needs are being met. It is a constant battle to find the balance. Some weeks I feel as though no one got enough of me, others I feel like I succeeded in some sort of balance. I like that my children know that I work and that sometimes work is hard and exhausting, and other times I can play in the foam pit :) At the end of the day, my kids know that I love them and my business is flourishing - so really what is there to complain about?​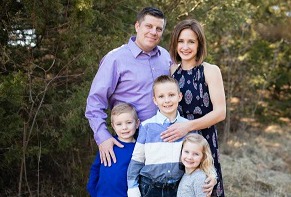 What Tip(s) Do You Have for Other JoCo Moms Who Want to Start a Business?
If you find something you are passionate about, the passion will outweigh the work every day. Yes, the hours can be long (and weird), but if you love what you are doing, it is all worth it. Find the support of other moms and friends that can help you with some of the simple things - like car pools, watching your kids during a meeting, just listening when you need to vent. And don't forget to start a Pinterest board for crock pot meals - you will need them.​

I am not perfect by any means and sometimes I feel like I have completely lost control. But I keep pushing ahead with goals for my family and for my business to keep us moving forward.

To learn more about Morgan and Pinnacle Gymnastics, call 913.422.0161 or visit www.pinngym.com