We are seven weeks into our summer break. We have experienced camps, swimming pools, s'mores, sleepovers, lemonade stands, fireworks and thankfully no trips to the emergency room. Now hits the dog days of summer. There are less than six weeks until we think about school supplies, alarm clocks and lunchboxes. It is hot and humid in the Kansas City metro and entertainment choices are dwindling to the pool or air conditioned venues. The kids choose to stay inside and are spending far too much time in front of screens. There are phones, earbuds, tablets, game systems and headsets being used to their max. 
 
What is a JoCo parent to do? Load up the minivan with the kids, summer outdoor adventure clothes and even the dog and hit the road for a 10 hour drive to Vail, Colorado. Spend as much time as possible in the glorious outdoors without electronic devices, except of course to take photos and videos!

I recently had the pleasure of spending three glorious days in Vail. Summer in Vail offers fresh mountain air, relaxation and active adventure for the entire family from toddlers to grandparents and even the dogs! One of the best parts of an outdoor vacation is that you can spend whatever amount of money your budget permits. Vail is a dog-friendly destination, so if your pooch enjoys socializing and the great outdoors, bring him along. 
My accommodations were at the Antlers at Vail where our group was hosted for three nights in a three-bedroom three-bathroom condo. The Antlers has a lodging option for every family, ranging from studio suites to four-bedroom condos. I would imagine most families are similar to mine and enjoy having a full kitchen to enjoy breakfast and evening snacks. The customer service philosophy at Antlers at Vail is "The answer is yes". The staff goes above and beyond to make sure they exceed their guests' expectations. Do you need a highchair? or maybe an espresso maker?  Just ask, and the answer will be YES. 
Over three days I got to get a good taste for all Vail has to offer. These are my top picks and tips for your family summer vacation in the Vail mountains: 
By Land, By Sea, By Air: 10 Ways to Spend Time Outside in Vail

By Land


Walking – Just steps outside Antlers at Vail we found the Lionshead village with shops, restaurants, the Gore Creek and the Lionshead Gondola. Vail is a beautiful town to just stroll, enjoy nature and window shop for free! Summer brings a lively outdoor patio scene as well as family picnics on grassy areas and parks. To get a break from the sun, walk east from the village and bop into the Vail Public Library to enjoy a free story time session or quiet time. Continuing on eastward the Vail Farmer's Market is a great place to grab a cool drink and snack. Strolling further east is the Children's Fountain where the kids will love to get wet.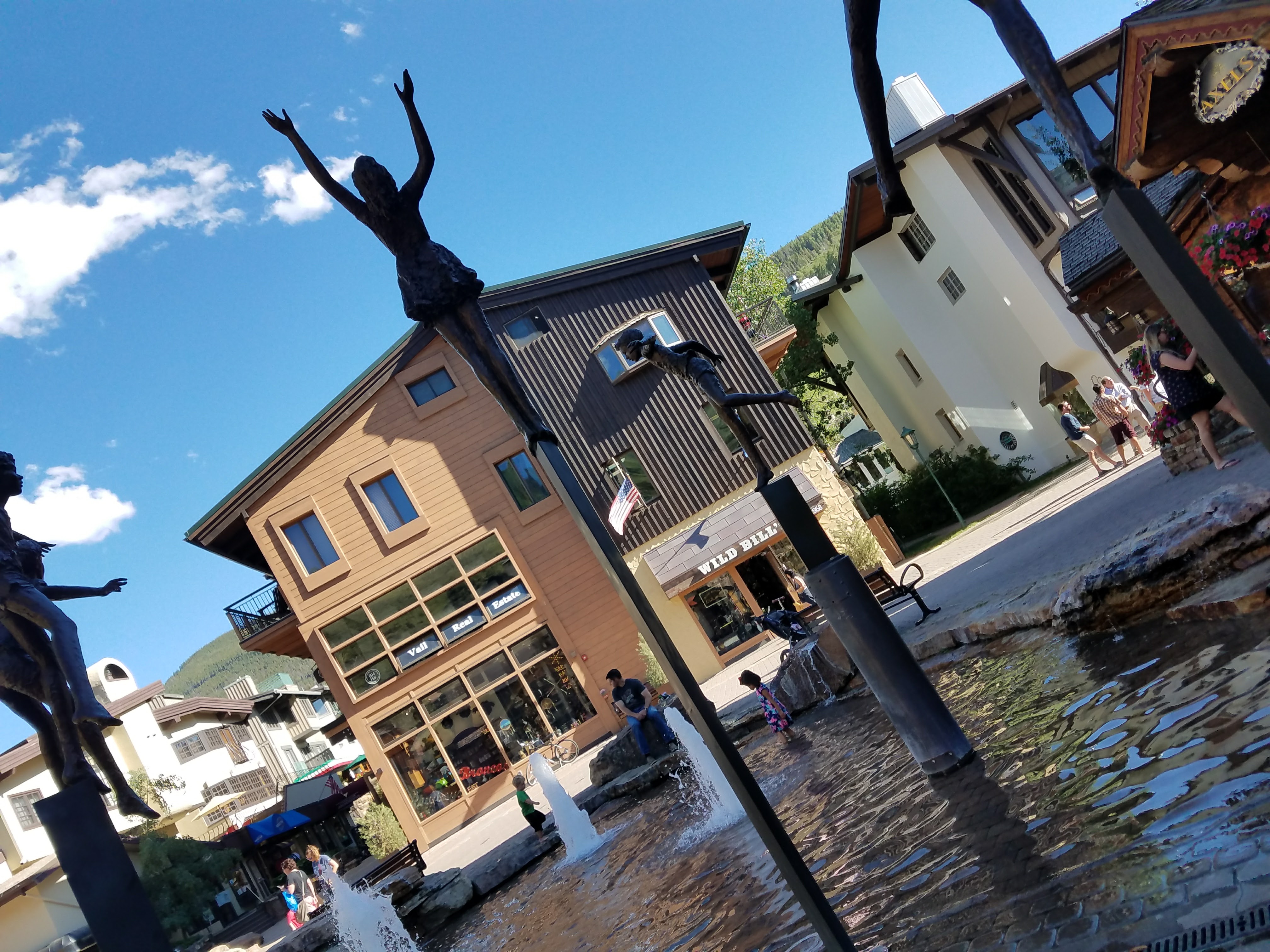 A 1 ½ mile walk or bike trip east from Lionshead is the Betty Ford Alpine Gardens. The botanical gardens offer a beautiful showcase of local plants along meandering stone paths, cascading waterfalls and bridges. The Betty Ford Alpine Gardens is the highest elevation botanical gardens in the world. During the summer, kids can stop by the education center between 10 am and 4 pm to pick up a free treasure hunt card. Kids can venture from letterbox to letterbox through the garden, collecting stamps until they complete all the clues. Leave time for the kids and young-at-heart to play at The Ford Park playground. Also on the grounds is the Gerald R. Ford Amphitheater which is celebrating its 30th anniversary this year.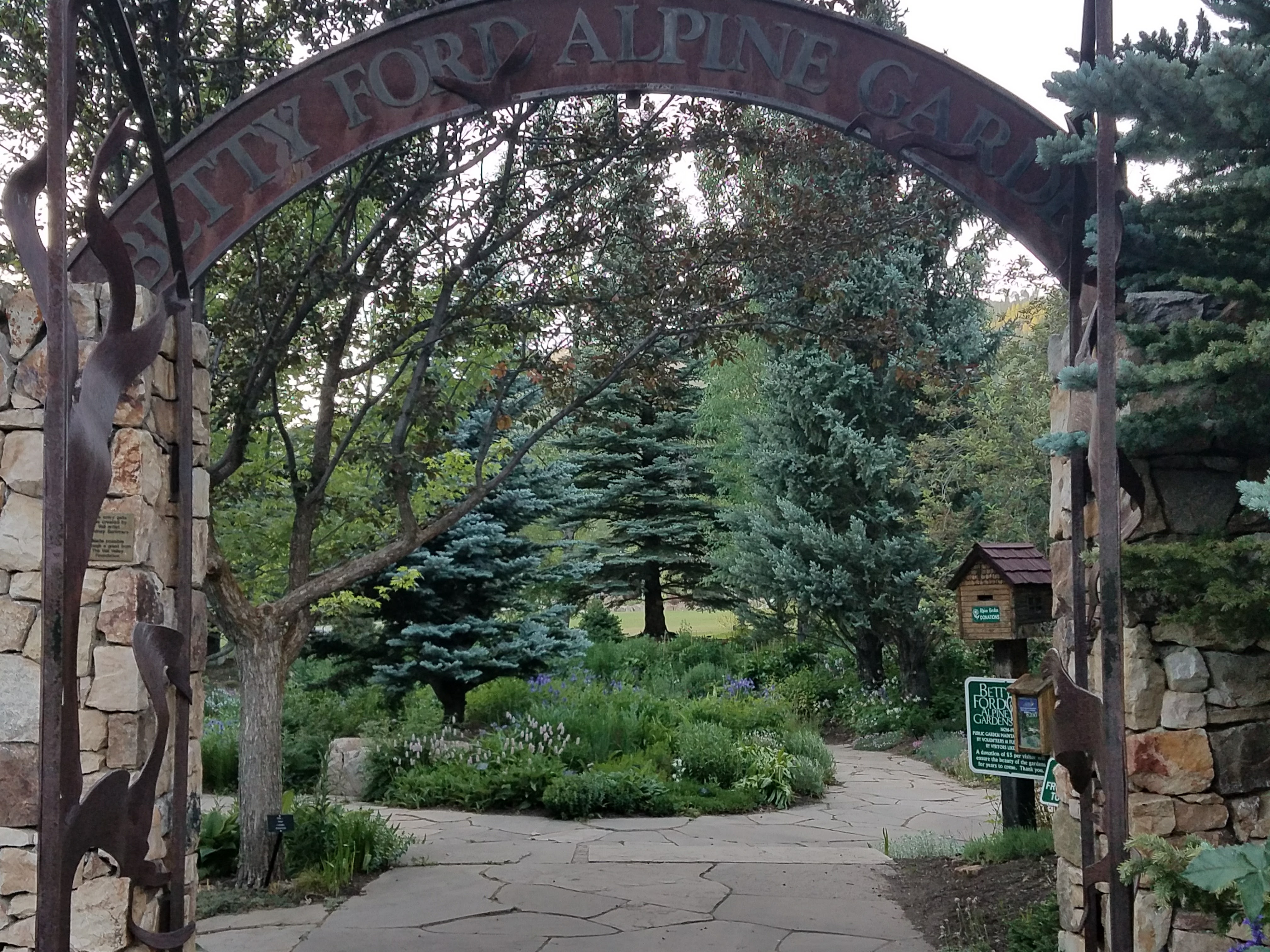 Playing - Walking around Vail I noticed how all the playgrounds combine state-of-the art fun with an artistic flair. If grandma is not up to climbing around with the kids she will still enjoy the beauty of the playground. In 2014 TravelandLeisure.com named Vail's Sunbird Park Playground in Lionshead one of the World's Coolest Playgrounds. As soon as you see the "nests" you will know why. Pirate Ship Park near the Children's Fountain and Ford Playground at the Betty Ford Alpine Garden are also worth a visit.
Hiking – Although I didn't have time to hike on this trip, I picked up a trail map to see the multitude of options. Families can take the Eagle Bahn Gondola to the top of Vail Mountain and hike down. The Kids Ride Free program allows kids 12 and under to ride the Gondola for free with a paying adult. There is an array of hiking (bike-free) trails to choose from ranging from easy 1 mile loops to more challenging 3+ mile hikes. There are also many bike trails which do not permit hikers. Paragon Guides is one of the local companies that offer hiking, biking, climbing and other guided tours. If you are looking for a unique experience with your kids, check out "Take a Llama to Lunch" outing 


Yoga – Stretching in the mountain air sounds wonderful! Unfortunately time did not permit for me to take a class. Have dad or grandma play with the kids at the Ford Playground while you enjoy a 75-minute drop-in yoga class in the Gardens or splurge and make a reservation for the entire family to do goat yoga at the Vail Stables. 
I like to seek out the unique activities that a travel destination has to offer. Vail certainly offers an abundance of high-end and unique shopping as well as golfing, horse-back riding, ice skating, and mini-golf

By Sea
Fly Fishing –Gore Fly Fisherman hosted us for a float white water fly fishing trip. We had three guides, three float boats and five students. I was the lucky one to have a guide all to myself. Steven was friendly, polite and a patient teacher. Like any sport, there is a lot to know about fly fishing. I didn't have to worry about what gear I needed, what bugs the fish were eating and where the fish were hanging out. All I had to worry about was learning how to cast, mend the line, and catch a fish. Sounds simple but of course it is not. It took me about two hours to learn how to cast the right way and get the line into the current seam where the trout like to hang out. I hooked my pants, some rocks and Steven. Frustration did set in, but I did some deep breathing and looked at the beautiful scenery to catch the tail end of a pair of Bald Eagles soaring above. Good fortune finally struck and I landed my first rainbow trout! I would definitely fly fish in the future with my family!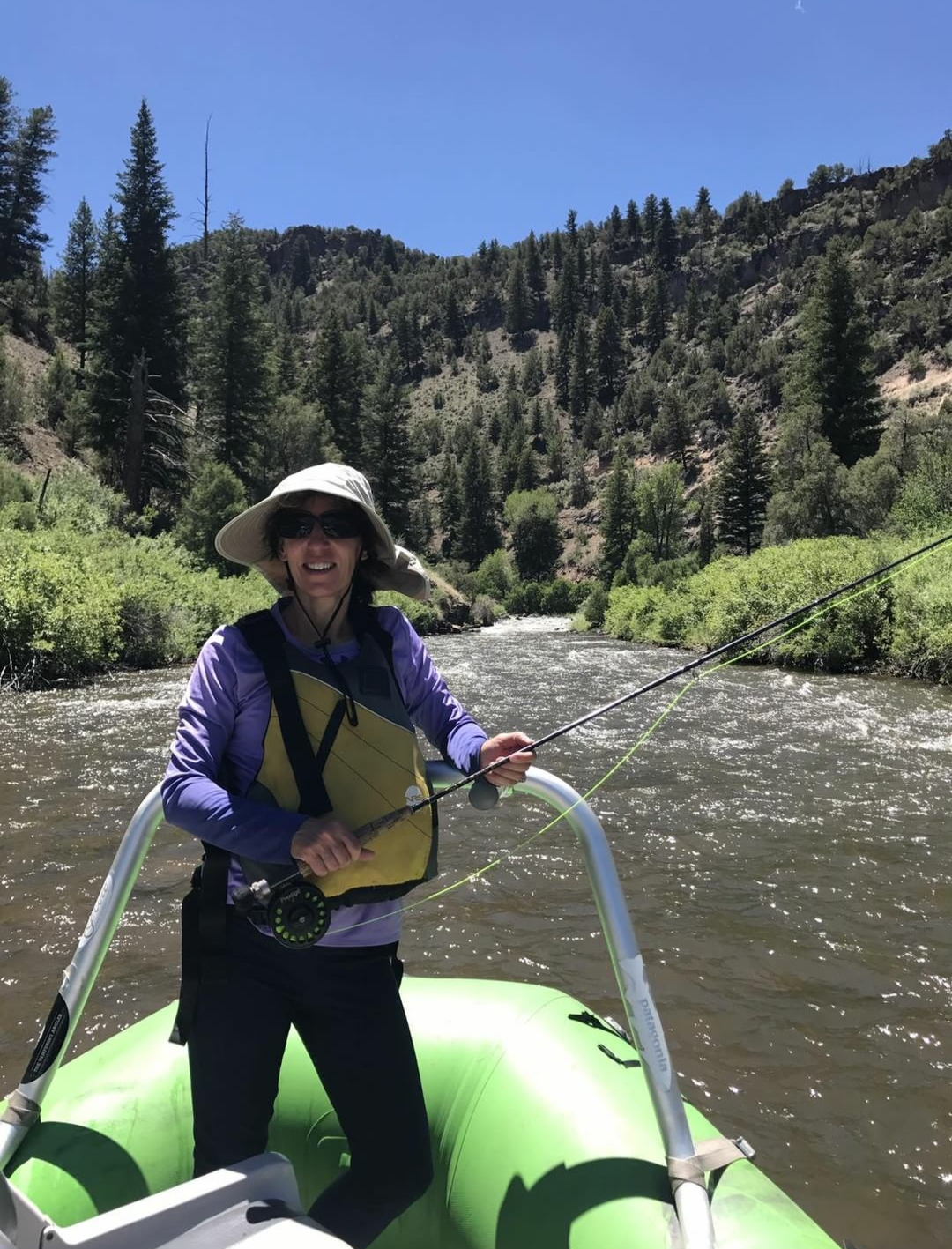 Rafting - We did not get to go white water rafting or kayaking this trip.  Colorado has beautiful rivers and rafting trips are so much fun. White water rafting near Vail includes Class I for beginners through Class V for pros on the Eagle and Colorado rivers.

By Air

Gondola Ride – Epic Discovery offers mountain adventure experiences for every outdoor enthusiast – ziplines, adventure courses, climbing wall, bungee jumping, mountain coaster, tubing and more. Take the enclosed Eagle Bahn Gondola to Eagle's Nest at the top of Vail Mountain. Make sure to take pictures and enjoy the breathtaking view from over 10,000 feet. Professional photos are also available and reasonably priced.

Mountain Coaster – Although technically not in the air, I  should mention that I have a long-term fear of flying out of any amusement park ride into the air. Most families will love this ride and ask to do it over and over again. I held my coaster brake almost the entire 3,400 feet down the mountain. The rest of my group obviously loved it and went for a second ride.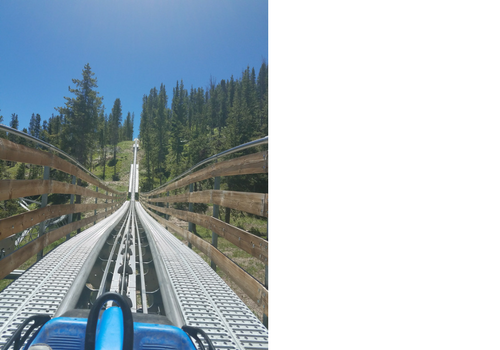 Adventure Tours – I seriously had to rest up knowing I would be going zip lining soon. Three members of our group got their ninja warrior on and challenged themselves on ropes, logs, bridges. These courses look super fun and I loved that there was a mini version for young kids.

Zip Line Tour – After lunch it was time to for three us of to gear up for the three hour Game Creek Ziplining Tour.  To say I was nervous would be an understatement. First came the trembling and then the feeling that I would vomit. What if I peed while on the line? As I started up the first log and rope ladder to the sky, I kept thinking "don't look down, don't look down."  Then came time to jump off. I appreciated our guide's reassurance. It took me three to four zip lines to relax. By the fifth line I was really enjoying myself.
​


My family would definitely want to spend the day at Epic Discovery. I conquered my fear of zip lining and would definitely do it again! 

Three glorious summer days in Vail, Colorado!  By Land, By Sea, By Air, there is a ton to do in Vail this Summer. Get ready to breathe mountain air, dip toes in refreshing rivers and make some family memories. All the mountain air and exercise is sure to make you hungry. Check out where I dined.
Ready to visit Vail, Colorado this summer? Here are some Packing Tips.

*The accommodations were provided by Antlers at Vail and several activities and meals were provided by Vail for the purpose of this review. No other compensation was received. All opinions are strictly those of the author.