Wee Create Studio is a neighborhood art space for kids, created especially for young children and their families. In our art classes for children, we emphasis process-based lessons in art exploration, focusing heavily on the process, allowing children to experiment and create in their own way. 
We offer weekly classes for toddlers through elementary aged children, Open Studio times for the whole family, birthday parties and much more for kids ready to learn and grow! We aim to ignite curiosity in everyone!

Developmentally Important and Fun!


Our projects are designed to encourage creative freedom and expression, while developing age appropriate abilities like gross and fine motor skills, problem solving and social interactions. The children are gently guided through the use of different art materials without the emphasis of a final product.


It is the process that matters most at Wee Create Studio! At this young age, children benefit from discovery of new art and creative experiences best when given ownership of their exploration.


For further reading about the benefits of art exploration at this young age, please see our website: weecreatekc.com/why-art-education/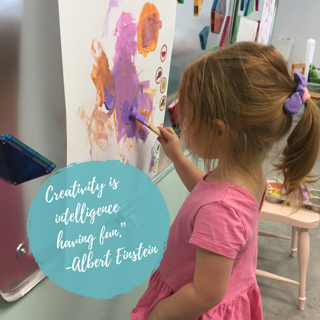 Messy Fun Offerings​
At Wee Create, there are a variety of ways to come and explore! We have weekly classes, starting as young as 18mos, open studio for the whole family to create, birthday parties and special events!
Wee Create Weekly Classes:

Wee Warhols--Escort Your Artist Playgroup (18 mos - 36 mos)- This is a perfect introduction to art and art exploration! In this class, the littlest artists are given the opportunity to play and explore with a variety of art materials.
Mini Monets--Sibling Class (18 mos - 5 years)- This is a wonderful art class for adults needing to bring multiple little artists at the same time.
Kiddie Kahlos--Pre-School Class (3 - 5 years)- Is your artist child ready to explore more independently? Then this class is the one for them! In this class, children have the opportunity to create using our monthly theme to guide them, while having the opportunity to explore their own inspired ideas. 
Learning Leonardos--Elementary Art Class (K - 3rd Grade)- Does your child love art and being creative? Looking for a fun, relaxed after-school activity? This class is perfect for your elementary art explorer.
See something you think would be perfect for your mini maker, but not ready to commit to a class? Come in and experience a trial class, free of charge! Email us to find our more, and arrange a time to attend. amy@weecreatekc.com​

There is so much more to see and experience! Please come and join us for our Open House event, Saturday, August 26th, 10:00 am - 1:00 pm. Explore our brand new space, ask questions, make some art, and so much more!

8839 Roe
Prairie Village, KS 66207