Studies are continually coming out with solid research that shows the importance of our children being outdoors and allowing them to play. However, as a parent, it can be hard to think about our child being behind in their academics because we made the decision to let them play. As a mom who is also a counselor this has always created an internal tug of war for me. I have chosen to fall more on the side of play but that does not mean that I do not have moments of guilt when I see one of my son's peers reaching a certain academic milestone. I question myself. Should I have spent less time at the park and more time working on letters? The Well Wilderness Kids Therapeutic Nature Center is making this choice easier for parents. You do not have to choose between learning and playing outdoors. The Well Wilderness Center is not just another preschool option, but it is also a movement. They are trying to promote the concept that education can happen while children play and connect to nature. The Well Wilderness Kids Therapeutic Center, located in Olathe, Kansas, hosted my son, my nephew, and I for one of their preschool sessions. I left amazed and excited about all that this program has to offer.
The staff is all experienced in working with children.
When attending this program you are not trading in expertise that you would get in a normal school setting. The teachers who run this program and the classes are professionals. The staff has experience working as teachers and therapists. They also have experience working with children of all abilities, so they are equipped to work with all ranges and spectrums of kids. The center also specializes in a small child to teacher ratio. The day we attended there were five children with one teacher and one aide.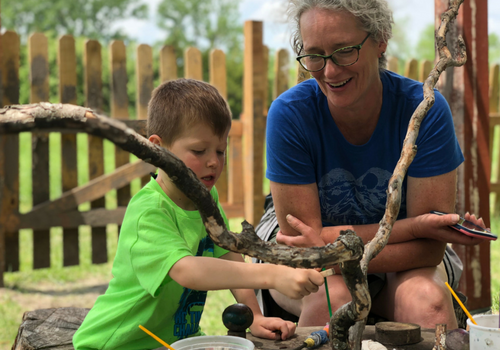 The kids were experiencing open learning with a nature theme.
The preschool session we attended focused on rocks. The kids found rocks, talked about rocks, felt the rocks, and threw rocks into the water. Then they moved to the outdoor classroom to paint their rocks. I watched in awe of the kids' resourcefulness and creativity. The kids were using leaves, sticks, and feathers that they found to paint their rocks. At The Well Wilderness Kids Therapeutic Center, they refer to their teachers as Learning Allies. It was interesting to see how the teachers came alongside the kids to teach them as they played. While they were creatively painting their rocks they were being taught about colors, shapes and patterns.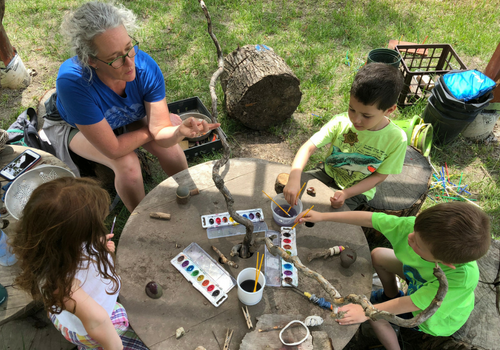 Even snack time was uniquely done and provided a learning opportunity. The Learning Ally that day called it a senses snack. The snack that day was an orange. Again the children learned about shape and color. They also worked on counting and numbers when they peeled the orange and counted its slices. Each child had to take an orange and talk about how it felt and how it smelled. They did not have to eat it if they did not want to. After using their other senses to explore the fruit even the kids who said they did not want to eat the snack made the choice to try it. I might have to steal this idea for dinnertime at home.
They present the opportunity to learn beyond the typical classroom.
During the course of the session, I noticed the children learning the typical preschool things like patterns, colors, shapes, critical thinking, and social skills. However, what makes this program so unique is at the same time they are learning useful life skills as well. They learned water safety when they were throwing rocks in the pond. They learned what poison ivy looks like and why you should avoid it. They learned how bugs help us, but what bugs (like ticks) should be avoided. They also learned how to be safe around animals when we visited the animal enclosure. The farm animals also presented the opportunity to learn up close about animals. When we were there we had the opportunity to learn about the lifecycles of animals when we say a chick hatching from the egg and a baby chick that had hatched moments before. These are all important life skills that often do not have the opportunity to get taught in a traditional classroom.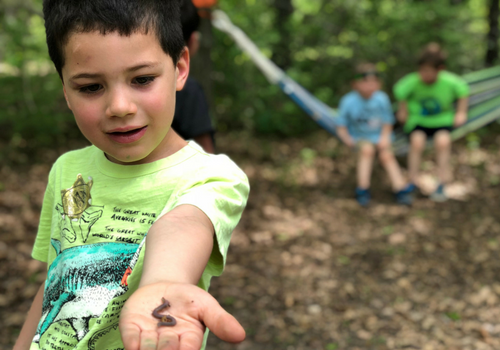 It is a place where nature, learning, and therapy meet.
It is a unique experience to find a place where nature, learning, and mental health are all balanced. Again, coming from a background of working in mental health I found the therapeutic aspects of the program fascinating. The Well Wilderness Therapeutic Center has goats, horses, and pigs that are all used in a therapeutic way. The animals can be used to teach the kids social skills and help them learn how to keep their bodies calm. They can also learn how to show kindness by working with the animals. The center is an all-inclusive program. If you have a child who struggles with anxiety or behavioral issues these programs could be so beneficial for them.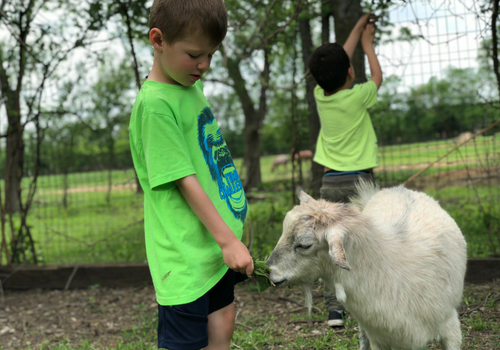 There are multiple programs.
The Well Wilderness Kids Therapeutic Nature Center currently offers programs for almost three years old to high school-aged kids. In addition to their preschool program, they have a parent-tot program, music therapy, farm to table food play, after school kids club, and summer camps. They also do a festival for every season and offer retreats throughout the year. I know we are looking forward to trying out more of their programs this summer. Get more information by calling 913.231.8581 or visiting their website at www.wellbelliesandbabies.com/nature-therapy/
If you are interested in having Macaroni Kid JoCo / KCK review your product or service, please drop a note to Gail at gailk@macaronikid.com