This week we checked out Stagecoach Park in Olathe. This park is located near the Olathe Community Center. This is one of the parks we go to fairly regularly. It is an Olathe community park, which means it is larger and has several amenities. Yes, parents, that means this park has bathrooms, a parking lot, and drinking fountains.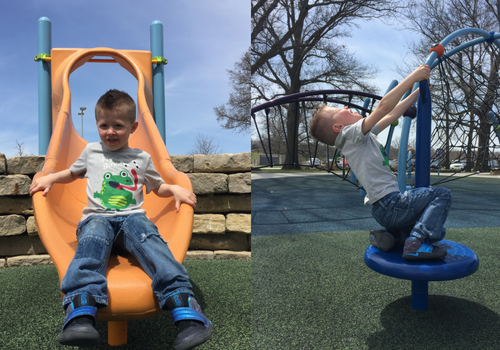 Stagecoach Park is home to one of Olathe's Farmer's Markets.
I love it when I can make the ordinary and mundane things more exciting. That is why I love farmer's markets so much. Grocery shopping is so much more fun. Then add to it that there is a park sharing the parking lot to a farmer's market and it just became the perfect Saturday park. The park also has a shelter with picnic tables and conveniently located trash cans if you want to eat your items right away.
Spend a day here.
This is one of those parks that you could make a quick stop at, we used to play on it for 5 – 10 minutes after swim lessons in the community center, or you can spend a good amount of time here. There is a playground, picnic shelter, trail, and the community center all located in this one spot. You can take a walk and play on the playground and then buy a day pass and go swimming inside the community center. They have a really fun swimming pool with water slides and lazy river for the older kids and lots of fun water features for the younger crowd. They also often have events at Stagecoach Park like their movie in the park or their season festivals (you can find all the details in the weekly Macaroni Kid e-newsletter or on the online calendar). It seems like there is always something happening here.
Stagecoach has a playground for the older kids.
Children do not stop needing to be outdoors to climb and play just because they get older. They still need that for their development as well, but it can be a challenge to find somewhere that your older ones are entertained at or that you do not feel like they are going to run over the little ones anytime they try to play. This playground was designed for those older kids. The suggested age on the playground is 5 to 12 years old. It has taller and more challenging climbing equipment as well as plenty of things to spin on. If you are the parent of young ones, you were not forgotten about. There is a slide built into the hill that is separate from the older kid area that your little one will enjoy.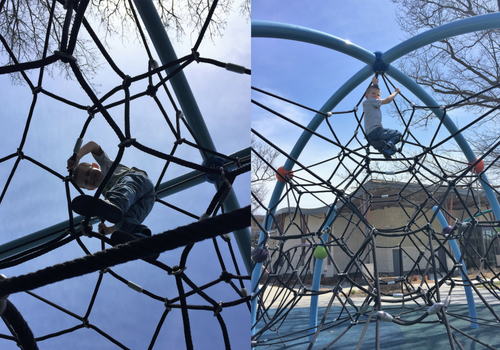 This park has a nature play area.
I have said it before; I love the nature play and natural elements that are becoming increasingly more common in newer parks. We have a small backyard and we are located in the middle of a neighborhood. If we want to balance on logs or jump on tree stumps we have to seek out a location to do this. Parks with nature play areas are making this much more accessible. Stagecoach Park has a small nature play area. There are logs and tree stumps to play on and large rocks to climb.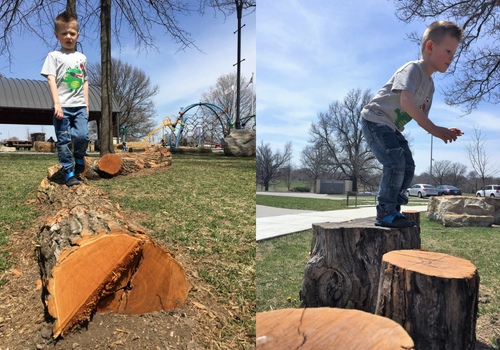 Take a walk or bike ride.
Stagecoach Park has a 0.97-mile trail loop that circles a pond. I personally love walks that center around water so this is one of my favorites. You can also fish in the park pond if you want to bring your fishing poles with you on your walk.
If you are interested in visiting Stagecoach Park it is located on the South West corner or Ridgeview Road and Kansas City Road at 1205 E. Kansas City Road in Olathe.
Find Your Family Fun® in JoCo Kansas. Sign up for our free weekly calendar of events here