When most people around here think of a large Johnson County Park they will think about Shawnee Mission Park. For the record, we love Shawnee Mission Park, but did you know there is another large Johnson County Park operated park? Kill Creek Park opened in 2001, is 884 acres, and is located in Western Johnson County. We have actually taken multiple visits to Kill Creek Park and I still cannot talk about all of it because we have yet to do everything. Here are some of the highlights from our visits.
Kill Creek Park has a playground suitable for all ages.
The playground here is a pretty traditional playground. They have monkey bar style equipment, slides, a tunnel, and even a balance beam. What I loved about this playground is that one of the slides is tunneled and multiple places on the playground have roofs. That means even on hot summer days your kid can enjoy going down the slide without having to worry about getting second-degree burns on their legs. I think both older children and younger children would be happy playing here. Parents of little ones be warned though, this park does not have baby swings. Kill Creek Park has 4 shelters throughout the park, one of which is close enough to the playground that you could have a picnic and walk over to the playground to play after.
Kill Creek Park has a beach.
That is right; you can go to the beach in Kansas. Kill Creek Park actually has two lakes. You can swim in one of them. Bring your buckets and shovels and build a sand castle. If you do not feel like driving 13 hours to the ocean this summer you can go get your beach fix here. You can feel safe about swimming with your kids there because they have lifeguards on duty. There are even a few picnic tables near the beach house if you want to bring your lunch. A few things to note before you go; the beach is closed on Mondays, they open at noon the rest of the week, and it does have a small per person fee to get in.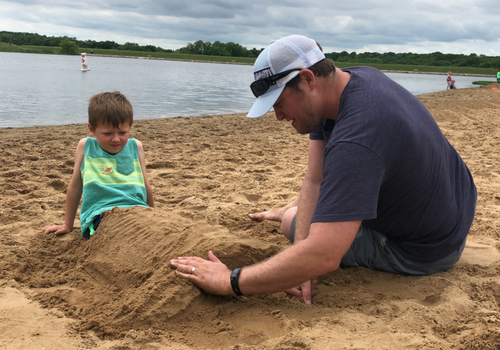 Kill Creek Park has boat rentals.
So far we have used the canoe and the paddleboard. However, they have kayaks too. You can rent these boats by the half hour. They have lifejackets there for you to use, including ones for kids. We had a lot of fun exploring the lake by boat. 30 minutes gave us enough time to explore almost the entire lake and I am not a professional canoer by any means. My preschool son loved going out on the canoe. There are a few things to note about the boat rentals as well. First, they moved the boat rentals from the marina to the beach house. You will go to the beach house to rent them. Their website says they have pedal boats, but (as of June 2018) they do not. If you want to do a pedal boat with your family Shawnee Mission Park would still be the place to go. There is $10 fee to rent one of the boats.
Kill Creek Park has special events.
Keep your eye on the Macaroni Kid Joco calendar because Kill Creek will occasionally have events. So far we have attended two of them. I took two preschool boys to the trout stocking and they loved it. They got to watch all the fish pour out of the truck and they thought it was so cool. They even brought one of the fish around so that the kids could see it up close. It was a neat experience. The other event we went to was A Day at the Park. This day was fun because everything that I just mentioned that costs money was free. If you have kids that you are not sure if they would enjoy the beach or a boat yet, watch the calendar for the next time this event is held. We learned this year that our five-year-old was not really old enough for the paddleboard, but using the canoe would be worth going back for. You can also rent a shelter if you want to host a party of your own. It would be such a fun spot for a birthday party.
There is so much more.
I mentioned that this park is 884 acres right? After multiple visits, we have barely skimmed the surface of what they have to offer. There are some things I feel are worth mentioning even if I cannot write about them from personal experience. There are 12 miles worth of hiking, mountain biking, and equestrian trails. There is fishing in both of the lakes. Please note you will need the proper permits to do so and they do not sell permits at the marina. They have a 16-acre off-leash dog area. Visit the Johnson County Parks and Recreation website for more information regarding the dog park code of conduct and rules.
If you are interested in visiting Kill Creek Park you can find it at 11670 Homestead Lane, Olathe, KS 66061
Check out our entire Park & Playground Directory. Find Your Family Fun® in JoCo Kansas by signing up for our free weekly calendar of events here