We previously knew Frisco Lake Park as one of Olathe's pirate parks. We loved the pirate ship, but it was getting kind of old and was probably in need of some updating. This year Olathe Parks and Recreation gave this community park a makeover. They took out the pirate ship and replaced it with some really fun brand new equipment.
Frisco Lake Park has a playground for the younger crowd.
It was just my six year old and I on this park adventure. I think he is probably on the older end of kids who would enjoy this park. He had a really fun time, but I think a child any older would not be challenged by the new equipment. A toddler would have a blast here. The hillside slide is the perfect size for them. The unique web swing is perfect for just laying on. It is a great swing for kids who do not quite get how to swing on their own yet but are growing tired of the baby swing. All of the climbing equipment here is pretty low. This makes it great for toddlers and preschoolers who are still working on their climbing skills. It also means the park trip just got a little easier for mom and dad. If you have a child this age I know what you really want to know now, since Frisco Lake Park is one of Olathe's community parks it does have the amenities of a large park. It has a bathroom. I must tell you though, for the faint of heart, this is a portable bathroom. So just pack some hand sanitizer and continue on with your day of fun at the park.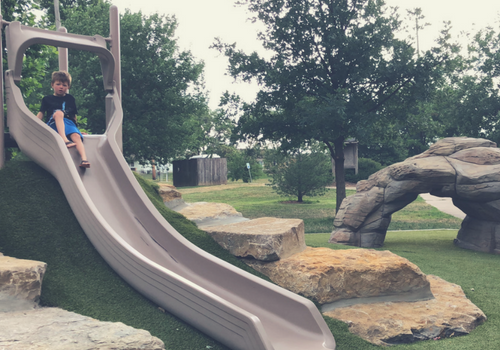 This is a park that supports the arts.
That statement makes this park really unique. When you think of a park you usually think of physical activity or sports. You usually do not think of the arts. Frisco Lake Park has a small instrument section. This was by far my son's favorite part. He loved creating songs on the Xylophone and jamming on the drums. This is something you do not see often in a park and makes it worth a visit.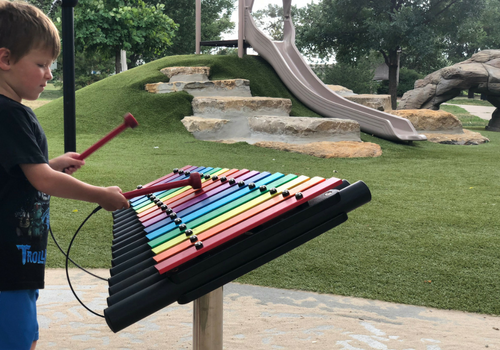 Frisco Lake Park has nature-based play elements.
Bring along your sand toys because Frisco Lake Park has a sand pit area. This is another aspect of the park that makes it so great for the preschool and toddler ages. Let them dig, build, and play. The rest of the new equipment is based on nature play elements. The playground area is still done in a plastic material, but it is made to look like tree stumps, logs, trunks, and rocks. It gives the feeling of playing in nature. If you want down to the lake you can also see natural wildlife. We saw so many ducks the day we went. My son had so much fun counting them and watching them walk in a line. Please note there are signs forbidding the feeding of the ducks so please do not plan to bring a loaf of bread to throw to them.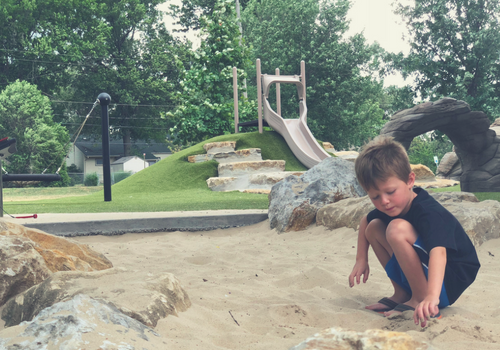 There is still plenty to do for the whole family at Frisco Lake Park.
The playground is more for the younger crowd, but that does not mean that your whole family cannot have fun here. There is a 0.9-mile fitness trail loop. Bring some sporting equipment from home because they have a sand volleyball court and a basketball goal. With the proper permits, you can also fish in Frisco Lake. We saw several people fishing the day we were there.
Frisco Lake Park is a great spot for a picnic.
I love the ease of a summer picnic. A lunch that I do not have to mop under the table after or scrub any surfaces, count me in. This park is a great area for a picnic. There are a shelter and several picnic tables. Trash cans are conveniently located. There are even grills there if you want to have a fancy picnic or maybe rent out the shelter for a party.
If you want to visit Frisco Lake Park it is located at the intersection of E. Dennis Avenue and S. Keeler Street, Olathe, KS 66061
Check out our entire Park & Playground Directory. Find Your Family Fun® in JoCo Kansas by signing up for our free weekly calendar of events here