Sometimes you need a park to kill a short amount of time or maybe to get out some energy in between errands. That was our situation this past week. I had so many errands to run and I was dragging my 6-year-old son around for all of them. I pulled up a park in the area I was in and we made a quick stop.
We ended up at North Walnut Park, a neighborhood park in Olathe. I have talked about the difference between Olathe's neighborhood and community parks in past reviews. To summarize an Olathe neighborhood park is typically smaller and does not have many amenities. This park does not have a shelter, but it does have a picnic table and grill. It does not have a water fountain. They do have a trash can and a parking lot, which is great when going with kids. The Olathe website lists this park as having a restroom, but I did not see it on my visit. So maybe have the kids use the bathroom before and pack a water bottle. As long as you come prepared you will still have a great experience at this park.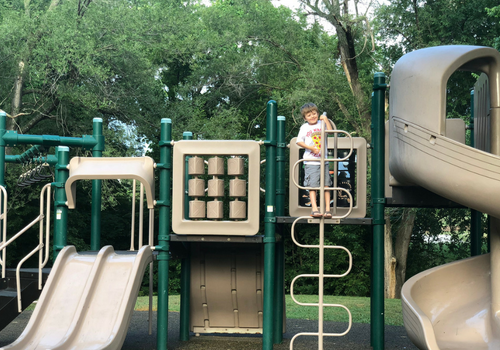 It is a more secluded park. The area is kind of woodsy, while still being in a neighborhood. There is a 0.2-mile walking trail. North Walnut Park has a very classic style playground. A variety of ages would be happy playing here. There is a small double slide and there is also a taller twisty slide. The playground has games like tic-tac-toe and create a picture. There are two baby swings as well as two regular swings. A feature that is more unique to this park is the zip line. This was my son's favorite part. He loved zipping back and forth. There is also a bench where you can sit back and watch the kids play.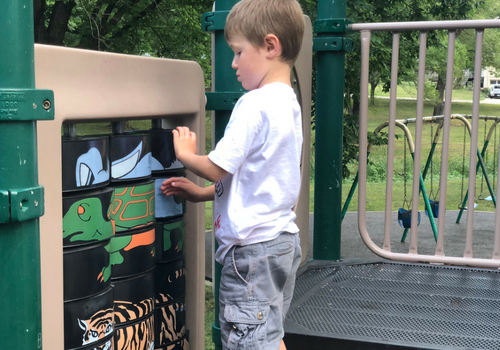 I love that Olathe has parks that are big, but also parks that are small. Some days all you need is a little playground to spend a short amount of time at. North Walnut Park fulfilled that need for us. I appreciate the care Olathe Parks & Recreation put into maintaining these small parks.
If you would like to visit North Walnut Park you can find it at 801 N. Walnut St., Olathe, KS 66061. The park is located north of the intersection of North Walnut Street and West Taft Street.
Check out our entire Park & Playground Directory. Find Your Family Fun® in JoCo Kansas by signing up for our free weekly calendar of events here