We are hosting an exchange student who will arrive in August. Therefore, we have developed a new interest in all things cultural. Visiting parks that are dedicated to sister cities is a great way to learn about the world while also doing some physical activity. We had already visited Erfurt Park to learn about Germany and Gezer Park to learn about the Gezer Region of Israel. So this week we traveled to I-Lan Park to learn about I-Lan, Taiwan.
I-Lan Park is educational.
While we were at the park we got to learn about the city of I-Lan and Taiwan. We had just eaten rice the night before and my son thought it was interesting that they are a major rice-producing region. We also got to read about the city of Leawood's friendship with the city of I-Lan. There is a picture at the park of the Leawood Bridge in Taiwan that was built to honor the friendship between our two cities.
The playground has tunnels.
If you have tried to go to a park during this very hot summer you will understand why a playground with tunnels is worth mentioning. Slides and playgrounds without any type of shade over the summer are not just uncomfortable, but can also be dangerous and cause burns. I-Lan Park has a slide with a tunnel as well as a crawl through tunnel. The playground also has a couple of small roofed areas. We visited this park on a hot July day so we appreciated the protected playground areas.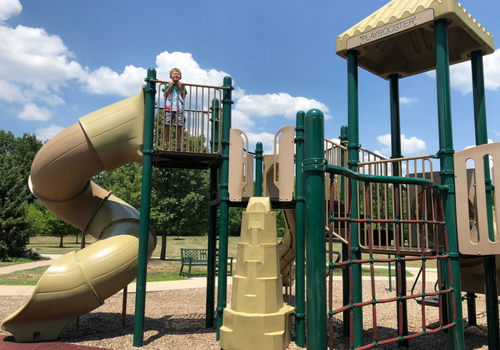 I-Lan park is a playground for all ages.
The playground has both low and high features. There is a slide and stairs for the younger ones as well as climbing equipment and a steeper slide for the older kids. There is also a wiggly bridge and fun monkey bars. If your child is not walking yet, there are no baby swings, but if you have a crawler they could crawl through the tunnel. My son loved that there was a tic-tac-toe game built into the playground.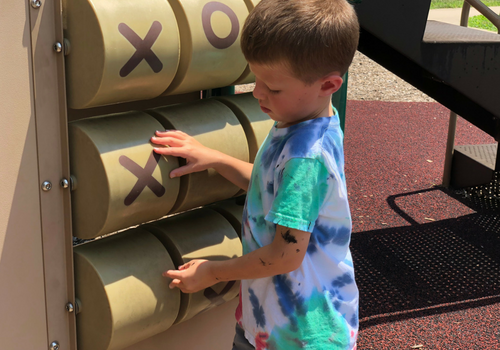 Pack a picnic and spend some time at I-Lan Park.
I think the shelters were my favorite part of this park. The shelters themselves are replications of Taiwanese architecture and they are set in gardens modeled after Taiwanese gardens. There are picnic tables, a water fountain, and a charcoal grill which make this a great spot for a picnic. This park also connects to Tomahawk Creek Trail so bring your bike, wagon, or strollers and take a family walk. There are restrooms as well. It has a wonderful set up for a day of fun.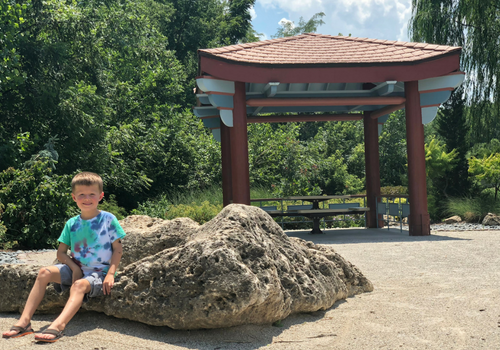 If you would like to visit I-Lan Park you can find it at 126th Street and Nall Avenue, Leawood, KS 66209. We would love to see your park pictures. If you take a visit use #mackidjoco on Instagram to show us and have a chance to be featured on our Instagram page.
Check out our entire Park & Playground Directory. Find Your Family Fun® in JoCo Kansas by signing up for our free weekly calendar of events here