There are days that you need a good small park. Maybe you just need to get outside but don't have hours for a larger park. Maybe you need a quick place for your kids to burn off some energy in between your errand running. This week my nephew was having a slumber party at my house. I wanted to do something fun to get out of the house after dinner, but with their fort building plans for the evening, I did not want to do a big activity that would get us home late. Olathe's neighborhood parks are perfect for outings like this.
Quailwood Park is the park we ended up at. If I would have stumbled across this driving instead of looking it up before we went I would have thought this was a private neighborhood park. It is small, nestled in a neighborhood, and located across the street from a private neighborhood pool. This is a public park though for all to enjoy. Since it is one of Olathe's neighborhood parks is does offer fewer amenities. There is no parking lot and no bathrooms. They do have a water fountain and shelter. The shelter has picnic tables, trash cans, and a grill. There are also benches if you want to have a seat while your kids play.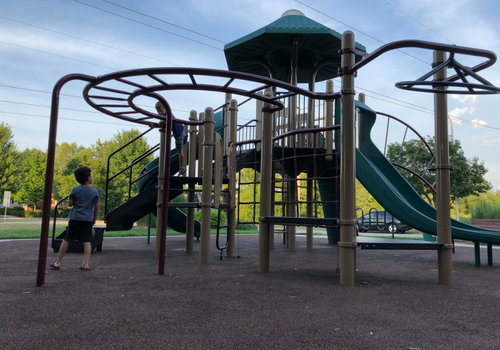 The playground at Quailwood Park is one of the more modern styles of playgrounds. While I think toddlers could have fun here, I would say this playground is geared more towards preschooler ages and up. My 5 and 6 year old could do most things here, but not everything. The playground itself is on the tall side of playgrounds. There are a few different climbing features here including a rock wall. It also has one of those cool sidewinder style slides that my son always loves. There is also a less steep double slide. Quailwood Park has fun monkey bars and equipment to spin on. One thing I appreciated about this park on a hot summer evening is that it has a top on it for shade. This helps keep the playground and the kids a little cooler.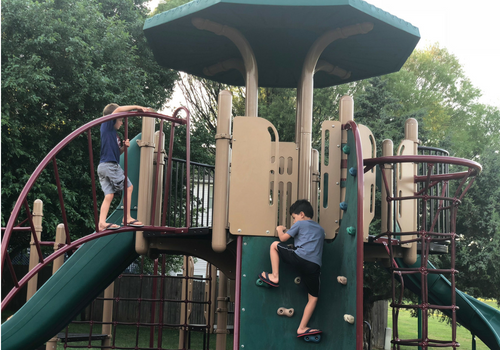 If you want to check out this 1.5-acre park you will find it south of 138th Street on Greenwood Street. 14092 S. Greenwood St. Olathe, KS 66062.
We would love to see your park pictures. If you take a visit use #mackidjoco on Instagram to show us and have a chance to be featured on our Instagram page.
Check out our entire Park & Playground Directory. Find Your Family Fun® in JoCo Kansas by signing up for our free weekly calendar of events here