I love to be the cool mom and aunt who will take the kids to get slushies or Slurpee® treats. They are such a delicious summer treat. However, I do not like to be the mom and aunt who has to clean up the slushies after they inevitably spill them. I have my limits. We drink our treats outside. I took the boys to get Slurpees, but since it was so hot out I had to find a park close to a 7-eleven so they could drink them before they melted. This is how we ended up at Calamity Line Park in Olathe.
This is a park for the kids who love trains.
Calamity Line is named after a railroad line that was built in Olathe shortly after the Civil War. You can read all about the railroad line on plaques in the park. The shelter itself has a railroad track running through it. It gives the feel of being in an old train station so it makes for a pretty unique picnic spot. There are plenty of picnic tables in the shelter. As well as a charcoal grill and trash cans.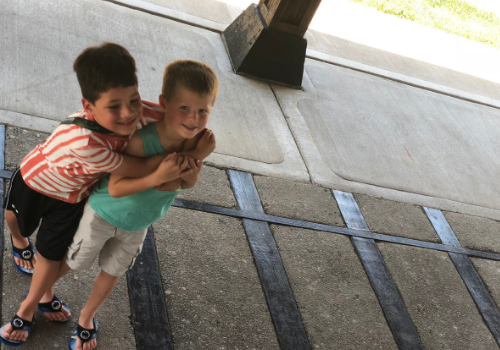 Calamity Line has fewer amenities, but still tons of fun.
Calamity line has basically everything you need for an afternoon of fun. Everything except a bathroom, but it is conveniently located near shops, fast food, and a gas station if you need somewhere to go quickly. This park has a small parking lot which makes unloading the kids, food, and toys a breeze. There is a drinking fountain for those hot days. As mentioned before they also have everything you need for an afternoon picnic in the shelter.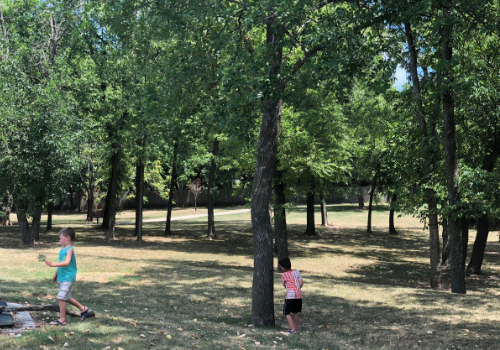 Calamity Line Park has something for everyone.
The playground at this park is a very classic looking playground. It has both short and tall aspects so all ages can have a good time. There is also a zip line. Zip lines seem to be an area that parents either love or hate; so either get excited or considered yourself warned depending on which camp you fall into. Calamity Line playground has three slides with a mix of short and tall. There is also green space and trees which are perfect for exploring nature. My son will often end up playing with sticks and leaves here. If you feel like going for a family walk there is a 0.5-mile walking trail loop.
If you want to visit Calamity Line Park you can find it on the south side of Santa Fe Street between Iowa and Marion Streets. The address for this park is 901 W. Santa Fe St, Olathe, KS 66061
We would love to see your park pictures. If you take a visit use #mackidjoco on Instagram to show us and have a chance to be featured on our Instagram page.
Check out our entire Park & Playground Directory. Find Your Family Fun® in JoCo Kansas by signing up for our free weekly calendar of events here