This past weekend was the grand opening for Big Bull Creek, a Johnson County Parks and Recreation park. Since I love parks, I was very excited. I had been hearing so many things about this park. We got lucky and the grand opening was on a beautifully cool Fall day. We set out on this new park adventure as a family. That meant my husband, my kindergartner, my high schooler, and me. Before I start telling you about the park please know that this park is big. The park totals 2,060 acres. This is Johnson County Parks and Recreation's largest park. We spent the day here, but I am only going to tell you about a small portion of it. There is much more to explore beyond what is written here.
Big Bull Creek Park has an incredible nature play area.
The nature play area at Big Bull Creek Park is my favorite one yet. It is huge and you can tell so much thought and planning went into it. My recommendation would be to bring clothes and shoes that are ok to get messy. My favorite part of the nature area was a creek walk section. My son loves taking creek hikes and they made the perfect area for it.
There is a climb, jump, and balance section that was also a big hit. It had a combination of natural and manmade fixtures for the kids to play on. There is a tree trunk to climb on, up, and in. Tree stumps to jump or walk across and a tree log to balance on. There was a rope web to cross. There were all types of things for all sizes and abilities to play on in this area. Our favorite was a wood climbing wall, it was the type you would see on an obstacle course. Our entire family actually had fun doing this part. If you have a kid who loves to climb this section is a dream come true.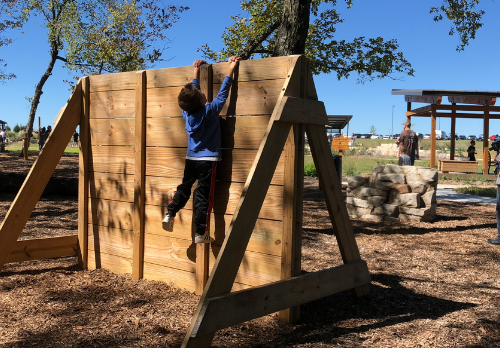 If you have a little musician there is a spot for drumming and playing xylophones. Next to it is a beautiful pollinator garden. This was a great time of year for the grand opening because there were several butterflies to see here. There was a section in the nature play area named Big Bull Village. It had teepees made from tree limbs. I can see a lot of imaginative play happening here in the future. A really unique section that I have not seen at a park before was a game shelter. It was a sheltered area and there was a trunk full of games, board games, and cards. If you are like me and have an older kid as well as a young kid to entertain this is wonderful. You can play a game with the older ones while the young kids run and play.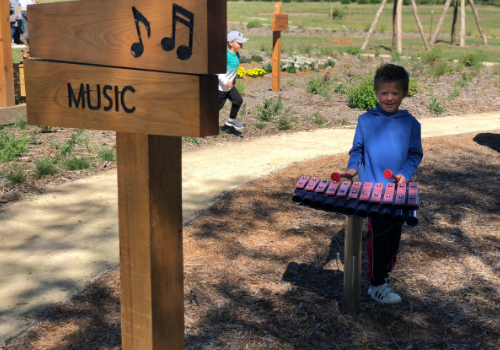 Big Bull Creek Park is going to be a hot spot over the summer months. There are two sections in the nature play area with water features. I loved that they separated these two sections into an area for big kids and an area for the little ones. Sometimes splash parks can be a little intimidating to the younger kids because the bigger ones are running and having so much fun that they forget to watch out for tiny kids. Each section has age-appropriate water features. As well as slides meant for the different age groups. They each also have their own shaded sandboxes. It did not look like there are any community toys in there yet, so if you have a child who loves playing in the sand bring some sand toys with you.
Big Bull Creek Park has the amenities you need for a day of fun.
Every parent knows there is nothing worse than planning a day at the park only to have to load everyone up to leave because someone needs a drink or to use the bathroom. Johnson County Parks and Recreation thought of this and they have multiple nice, clean bathrooms. They also have multiple drinking fountains. These drinking fountains are even a little extra because they have a spot for you to refill your water bottles and a small fountain if you brought the furry members of your family with you. They have multiple picnic shelters and picnic tables. Plus Big Bull Creek Park has big parking lots to make unloading your family safe and easy.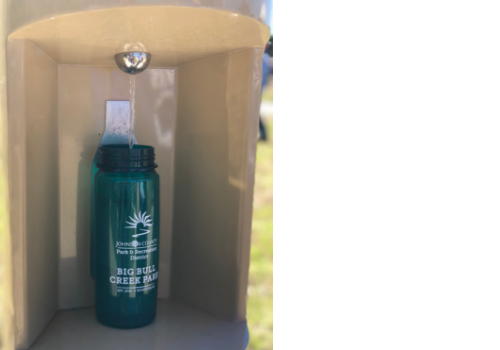 Big Bull Creek Park has an 18 hole disc golf course.
One of my husband's favorite hobbies is disc golf. It is not uncommon for him to request this for Father's Day or his birthday. I have never been really into it, but I have always thought it was a nice way to take a walk. It is a great family activity. The first 6 holes of this course were pretty easy. It made it really fun for the three members of the family who are pretty new to the world of disc golf. After hole 6 the course starts to get a little more challenging which made it more fun for my husband. One thing I appreciated about this course were the trash cans placed throughout. It made it easy to dispose of drinks or snacks that we brought along. If you are looking for a fun family activity and have never tried disc golf before this would be a great place to give it a try.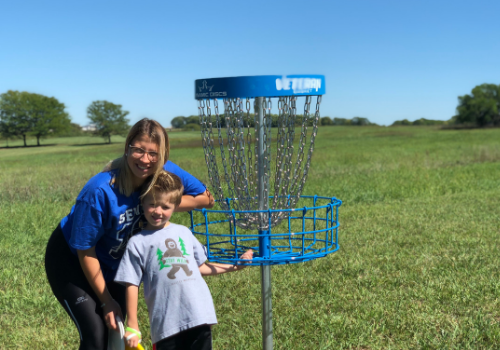 There is so much more.
I said at the beginning that this is now Johnson County Parks and Recreation's largest park. There is so much more than I got to see in our day here. There is a prairie restoration area, paved trails, hiking trails, and an organized group campground. I am so excited to go again, see more of the park and to watch how it grows and progresses.
If you want to visit Big Bull Creek yourself you can find it at 20425 Sunflower Road in Edgerton, KS 66021.
When you visit be sure to #mackidjoco on Instagram so that we can see your park fun!
Check out our entire Park & Playground Directory. Find Your Family Fun® in JoCo Kansas by signing up for our free weekly calendar of events here