Over the summer our family can be found at the lake on the weekends and poolside during the week. Since we are around water so much we value water safety. For us taking swim lessons during the summer is not going to cut it. We have found that swim lessons during the off months are what is needed to fully prepare our son. With the amount of time we spend around water and the number of family and friends with pools, I want to make sure that my child knows what to do if he were to fall or jump in while an adult's back is turned. It may seem odd to start swim lessons when pool season is months away, but I feel so much peace of mind when summer does roll around. We were hosted by Goldfish Swim School in Overland Park for two months of swim lessons. Not only did my son make great strides in his learning, but there were some extras that really set Goldfish Swim School apart from lessons we have taken in the past.
Goldfish Swim School has a separate waiting area for parents and siblings.
There are two things I disliked about our previous swim lessons. First, pool areas are often warm. Like really warm. This is great for the kids. This is not so great while I am watching my son's winter swim lessons and I am appropriately dressed for winter weather. I leave lessons sweaty and gross. I usually just wore athletic wear and hoped that everyone I saw after would just think I came from a long run on the treadmill. My second problem was trying to keep jealous siblings from jumping in the water. This meant bringing along bags of fruit snacks to convince the younger one that sitting in the plastic chair was really just as fun as being in the pool. This was not an easy sell to make. Thankfully Goldfish has my back. They have a separate and comfortable waiting room behind glass windows. I leave lessons looking as fresh as I did coming in. I don't miss anything. I can still see everything and at the end of every lesson his teacher talks with me about the progress they made that day.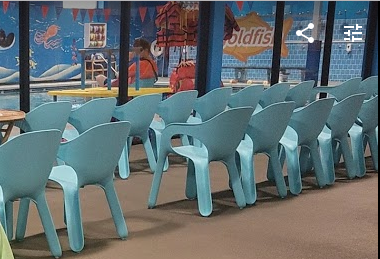 As for the younger sibling issue, Goldfish Swim School has a play area for them. There is a fish tank, chalkboard, books, and lots of toys. They will think the wait is just a cool as the swim lesson and you never will have to tell them that it is not.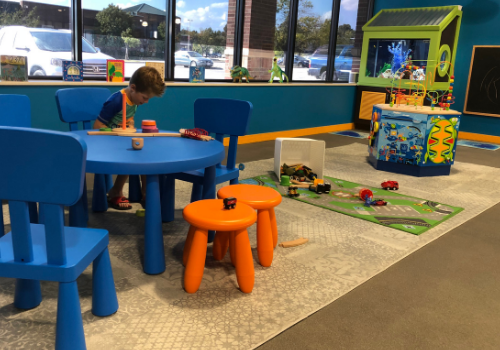 Goldfish Swim School understands mom life.
Let's face it. The school year can be exhausting. Drive this kid here and the other needs to be somewhere else thirty minutes later. You have a school project? And it is due tomorrow? There are school events, homework, sports, and so much to remember. It is so easy to forget things. That is why I appreciated the little details at Goldfish. They have a small store there. If you forget your swimsuit, towel, water bottle, swim cap, or nose plug they have you covered.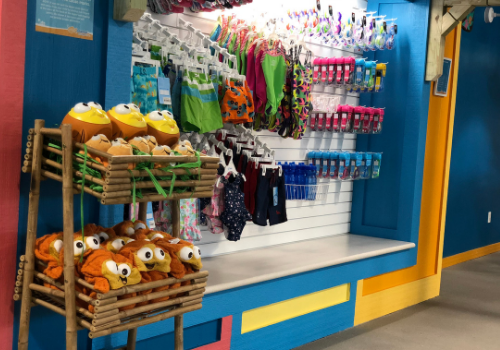 You also don't have to worry about packing your entire bathroom for a swim lesson. They have showers with soap and shampoo. For the little ones, they even have diapers and wipes. There are clean changing rooms with hairdryers and a swimsuit dryer. They made things so easy. Afterward, they always had a nonfood reward. It might be a water toy, a poster, or a balloon. Whatever it was it always made for a happy car ride home.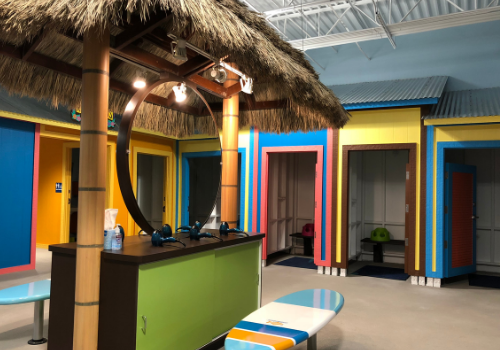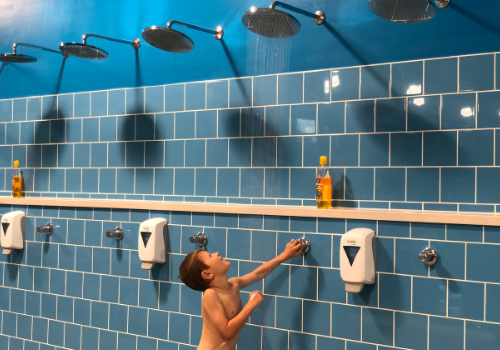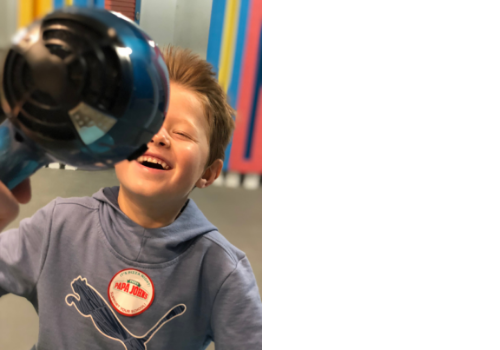 Goldfish Swim School helps prepare kids for the water.
Now to what we came for, the whole reason we were at Goldfish is to ensure that my son is able to be safe around water. All their swim lessons have a small student to teacher ratio. It was more like being enrolled in semi-private lessons rather than a large group class. The teacher knew each kid by name and knew what their strengths were and what they needed to improve on. My son was able to work on the skills he really needed to work on, he was not held back by other kids in the class nor were other kids held back by him. I was impressed with all they were able to accomplish in a thirty-minute lesson. Each quarter Goldfish has a water safety day. They still work on some skills this day, but they mostly focus on water safety skills. I left that day feeling like my son had learned some very valuable and important skills.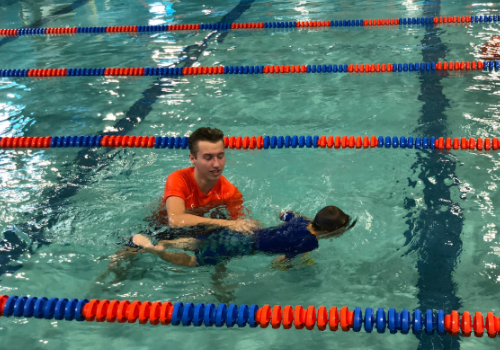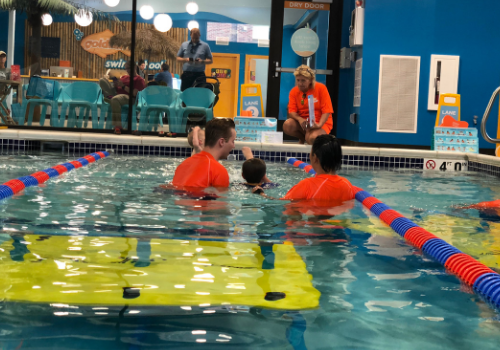 Goldfish Swim School's 90-degree pool is located at 7641 W. 119th Street, Overland Park, KS 66213. Find out more by calling 913.586.0019 or by visiting https://www.goldfishswimschool.com/overland-park/
Goldfish Swim School Overland Park hosted my son for two months of swim lessons in exchange for this review. The opinions are my own.