Swim on over to Crown Center this summer to entertain future ocean explorers. For young kids, Under the Sea Adventure provides a fascinating aquatic world to explore, and the best part is, it's completely free!
Inside Crown Center Showplace on Level 1 of the Crown Center Shops, you'll find an enchanting play area under the deep blue sea to delight young imaginations. And it's a picture-taking paradise for parents.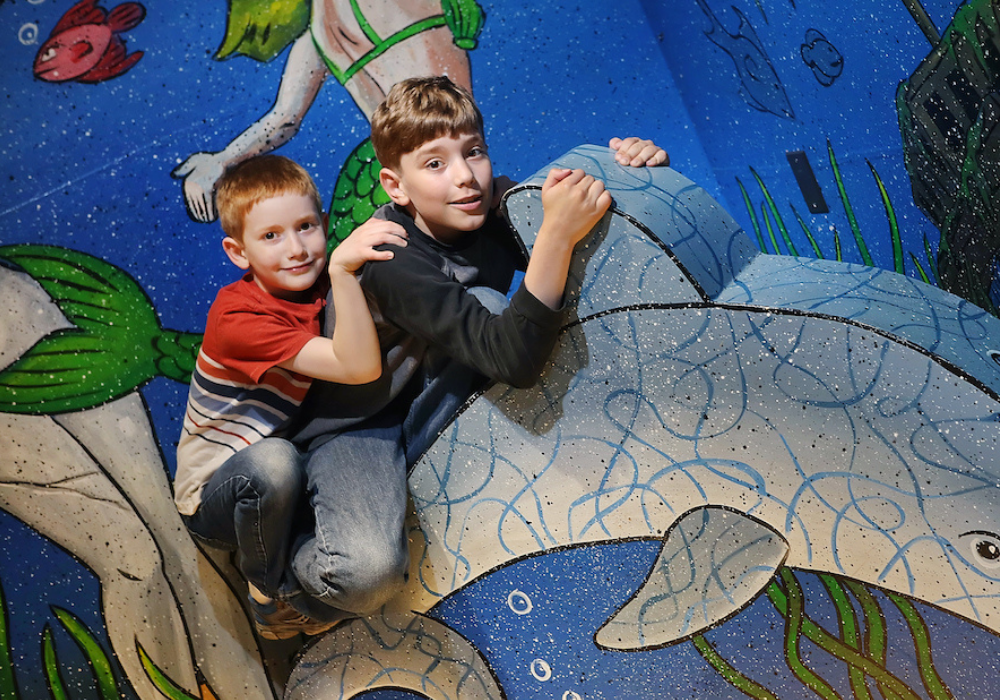 The colorfully painted undersea scenes combined with theatrical lighting make you feel like you've taken a dive deep down underwater, without the bulky scuba equipment. Kids can pretend to be an oceanographer and play "I Spy" for different kinds of fish. Spin a kid-sized tower of three cubes to create a mermaid, deep sea diver, dolphin, seahorse, or a combination creature.
A sunken Greek temple provides a crazy funhouse effect of feeling off balance that kids will love. Plus, lots of ocean nooks, crannies and tunnels will appeal to little ones wanting to hide and seek. Parents will appreciate the contained environment for kids to safely play.
Discover buried treasure in a sunken pirate ship, ride a dolphin or seahorse for an adorable photo, or explore the deep unknown from inside a submarine. It's a small space, but the perfect size for the big imaginations of pint-sized aquatic adventurers.
A trip to the SEA LIFE Kansas City Aquarium at Crown Center would be a perfect complement to this exhibit, but if you're just looking for a fun and free family activity to keep kids entertained for under an hour, this oceanic play area is perfect.
Under the Sea Adventure exhibit at Crown Center runs through Sept. 6. Hours are Monday – Saturday, 10am to 6pm; Sunday and Holidays, noon to 5pm. Find more details at CrownCenter.com or call 816-274-8444.