The American Academy of Pediatrics has found that adequate sleep duration regularly leads to improved attention, behavior, learning, memory, emotional regulation, quality of life, and mental and physical health. This year our daughter is heading to all-day kindergarten, so a good night's sleep is more important than ever.
When we moved her into her big girl bed a few years ago, she inherited the mattress I used as a teenager. We had plans of upgrading it, but life got busy and we never got around to it. Recently I learned about Luuf beds, and it was a no-brainer for us to trade out her old mattress for a nice new one, just in time for her first year of elementary school.
Luuf carries a special mattress called Little Luuf that's made just for children. It's made of safe, non-toxic material, and even uses a natural fire barrier made of cotton and rayon. Most mattresses children sleep on are made for adults, and are often the cheapest beds in the showroom, full of suspect, inferior material. When most commissioned mattress salespeople hear you are buying a "kids bed," they want to get you out the door as soon as possible since their margins are low, and there is no real incentive for them to educate you or make sure you're making a comfortable and safe purchase for your child. Our kiddos deserve better than this!
Little Luuf was inspired by a Mom of a child who has seizures who wanted to make honest, safe sleep products for children that wouldn't cost a fortune. Little Luuf has a custom coil system designed to support bodies weighing 30-175 lbs. The coils are individual and not connected, meaning they will contour and adjust to each area of your child's growing body and all of their sleeping positions.
Best of all, Little Luuf is SO AFFORDABLE! Parents who are seeking to buy a safe mattress and limit environmental toxins are often forced to spend upwards of $800-$2000 on an "Organic" mattress that has no regulation. Little Luuf is less expensive than buying in a mattress store, starting at $449 for a twin mattress (the traditional retail value on a Little Luuf would be around $999).
Our daughter has been a little nervous about entering kindergarten, so it was great to introduce this new mattress to get her excited about school. We explained that it was going to help her get a wonderful night's rest, and help her be the best version of herself every day. She has slept on the new mattress for a few weeks now, and she often asks for an early bedtime so she can climb in her "new cozy bed" each night, and has even been sleeping 30-45 minutes longer each morning (mom win!).
And our daughter isn't the only one pumped about her new Luuf bed. My husband and I got one too! We've been married 8 years, and we purchased our current mattress not long after we got married. It was time for a new one, but we haven't done anything about it because we haven't had the time or energy to spend an entire Saturday in the mattress store. We are both busy working parents, and weekends are reserved for relaxation and family time.
We felt comfortable working with Luuf because it's a customer service-forward company, offering free delivery, free exchanges on Luuf beds, no-questions-asked returns, and two easy ways to purchase. You can go online for a self-guided experience, or speak to one of their sleep experts over the phone. Then in no time, a mattress appears at your front door! Shopping Luuf saves hours you'd normally spend in-store, and you don't have to deal with the hassle of waiting for a delivery truck. Just click through, order, and it appears on your porch!
If I'm honest, our family spends a lot of time in bed. On weekday mornings I check emails for about an hour while my daughter snuggles in with me, watching cartoons. On weekend mornings, she jumps in for lazy snuggles and tickle fights with her dad. In the evenings we watch movies together and read bedtime stories. Making sure we kept a cozy, snuggly, comfortable space for all those special family moments was especially important when considering a new mattress. We only get so many years when our kids are young and want to hang out with us, so soaking up those moments and memories is super important to us. That said, we didn't want to break the bank making the perfect selection, and maximizing sleep remained a top priority.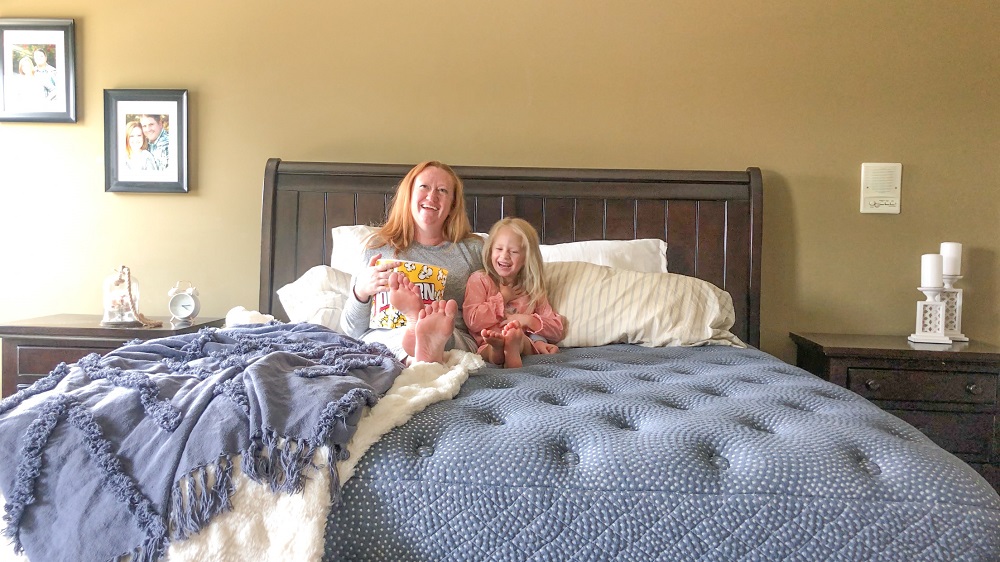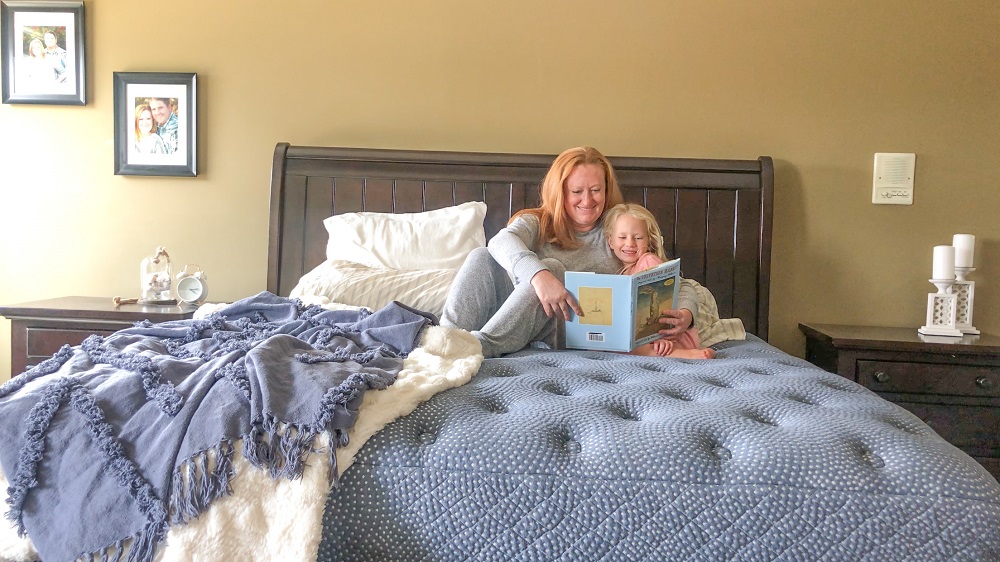 The Luuf mattress is a high quality, hand-crafted in the USA brand, offered at ⅓ of the traditional retail prices. Purchasing a Luuf in-store would easily cost $3499, making the online prices for a queen at $1399 an incredible value! Luuf offers three hybrid models designed by sleep experts for a personalized fit. You can learn about each mattress online, or speak to a sleep expert to choose the right mattress for you. All mattresses are made with the latest design technology. Each Luuf features precisely layered foam to alleviate pressure points that cause tossing and turning and individual pocketed coils that adjust to each sleeper's unique shape, sleeping position and minimize partner disturbance.
Both my husband and I are sleeping so much better since we got our Luuf. We're both side sleepers, and the mattress we bought 8 years ago was super firm. That's back when I was young and slept on my stomach (pre-baby). Having a soft mattress that was made for side and combination sleepers has been a game-changer for our comfort and sleep quality. No more tossing and turning every 30 minutes because our sides hurt!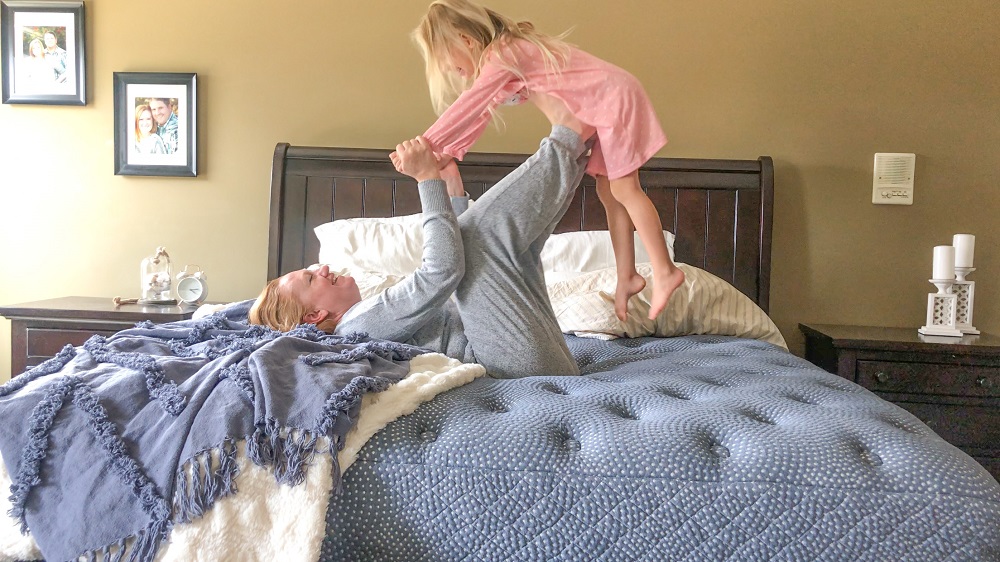 If you are in the market for a new mattress for yourself or your little one, Luuf is offering Macaroni KID readers a special discount. Use code MKID and get 40% off all Luuf Mattresses & Accessories, including Little Luuf! Plus, free shipping and returns! Again, Luuf has the best customer service and can walk you through this process. Head to Luuf beds today to learn more and upgrade your family's sleep situation!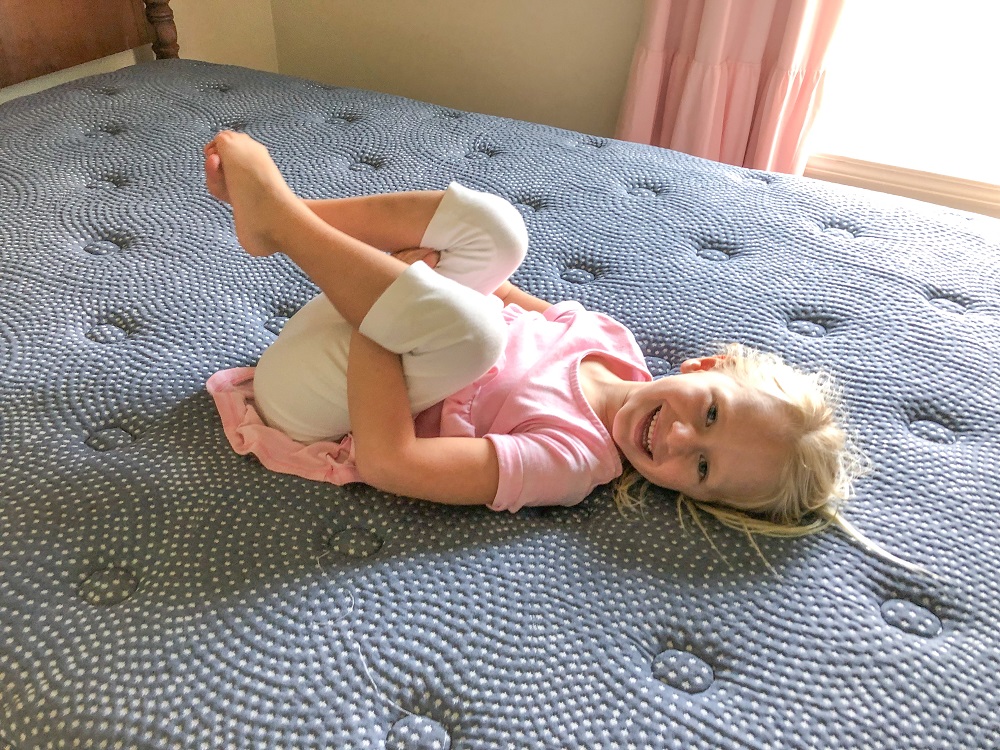 *Discount excludes adjustable bases and foundations and is not applicable on set-up or removal services.
Luuf provided my family these mattresses, but all opinions expressed here are my own.