Wanderlust: n. A strong desire to wander or travel and explore the world. I have had an ongoing case of Wanderlust since I was a child, and my recent trip to Meliá Caribe Beach Resort in Punta Cana was just what the doctor ordered after 18 months at home. For three full days, along with a group of fellow Macaroni KID publishers, I soaked up the sun, took in the culture, ate, drank, and was treated like a queen by the incredible staff at Meliá Caribe Beach.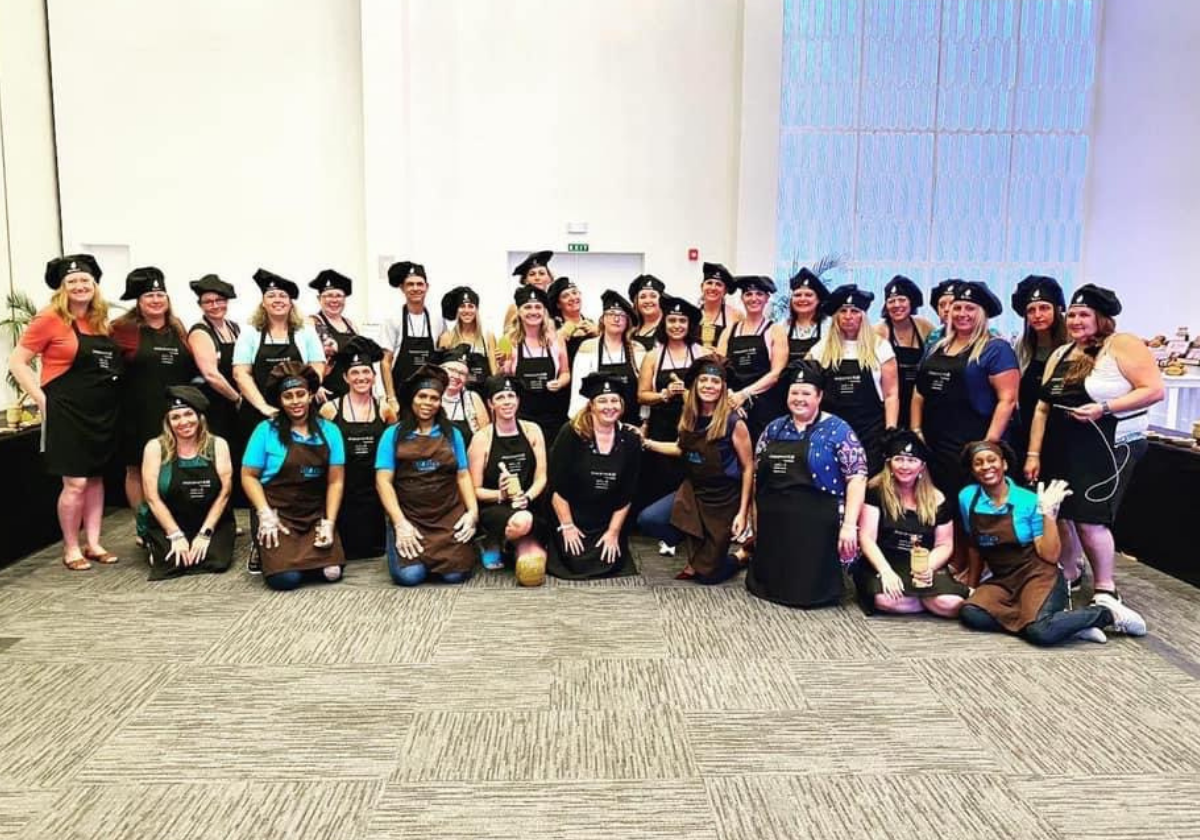 This trip to Punta Cana was my first time to the Dominican Republic and a Meliá Caribe property. To say I was impressed by the beautiful beach, people, and resort would be a major understatement. It was everything I dreamt it would be, and so much more.
Upon arrival to the resort, our group was greeted with a round of fruity cocktails while checking in at The Level lounge, a VIP area for The Level guests. The wonderful butlers took our luggage and chauffeured us over to our stunning guest rooms. My room had a walk-in shower, a massive jacuzzi tub, two separate vanities with sinks, a private bedroom, a kitchenette with a stocked mini-bar, a seating area, a dining area, two televisions, and a spacious balcony with a view of The Level pool! It was bliss!
After a quick costume change from my travel clothes into my beachside dress and sandals, I joined the rest of the group for our opening dinner on the beach. This experience was my first real introduction to the magic of Meliá Caribe Beach, and I was blown away. We were seated at the most beautiful tables with place settings I've only seen on Instagram. We were served unique and delicious craft cocktails and entertained by a group of talented local musicians and dancers. Dinner was surf and turf, with a fresh lobster tail and one of the most tender steaks I've ever enjoyed. If I have the opportunity to renew my wedding vows someday, I want to replicate that night, but have my entire family there with me.
| | |
| --- | --- |
| | |
The following two days brought more fun and a lot more Punta Cana magic. We explored the resort and got to experience so many of the special experiences Meliá Caribe Beach can make happen for families who visit. The resort's family suites are fabulous, with plenty of room to bring the whole family, and patios that provide a nice outdoor space for the kids to play and parents to relax.
Plus there are so many great spaces for kids, including the Splash Island Water Park, which boasts all kinds of waterslides and splashtacular fun. While at the Splash Island Water Park we enjoyed cotton candy presented by costumed cotton candy spinners and were surprised with a flash mob dance by the pool staff – they are one talented group of lifeguards and waitstaff! The massive main pool is family-friendly too, with plenty of cabanas to set up camp in for the day, which offers shade and a place for the littles to nap and eat. While we were there we experienced a massive family pool party with live dancers, balloons, music, drinks, and poolside treats!
| | |
| --- | --- |
| | |

Kidsdom is one of the best features of Meliá Caribe Beach Resort for families. It's a fun zone where kids can play for hours on end, with games, workshops, sports, parties, and more, all organized by the qualified staff at Meliá Caribe Beach Resort. It has a children's pool, garden, an area with video games, and a small bar with snacks and fruits so they don't miss out on that all-inclusive perk. There's even a room made especially for babies!
Also available as an add-on for families is the Family Picnic experience, where Meliá Caribe Beach creates a charming picnic area with toys, games, and stuffed animals. My daughter would have flipped out if she could have seen it; the details were just amazing.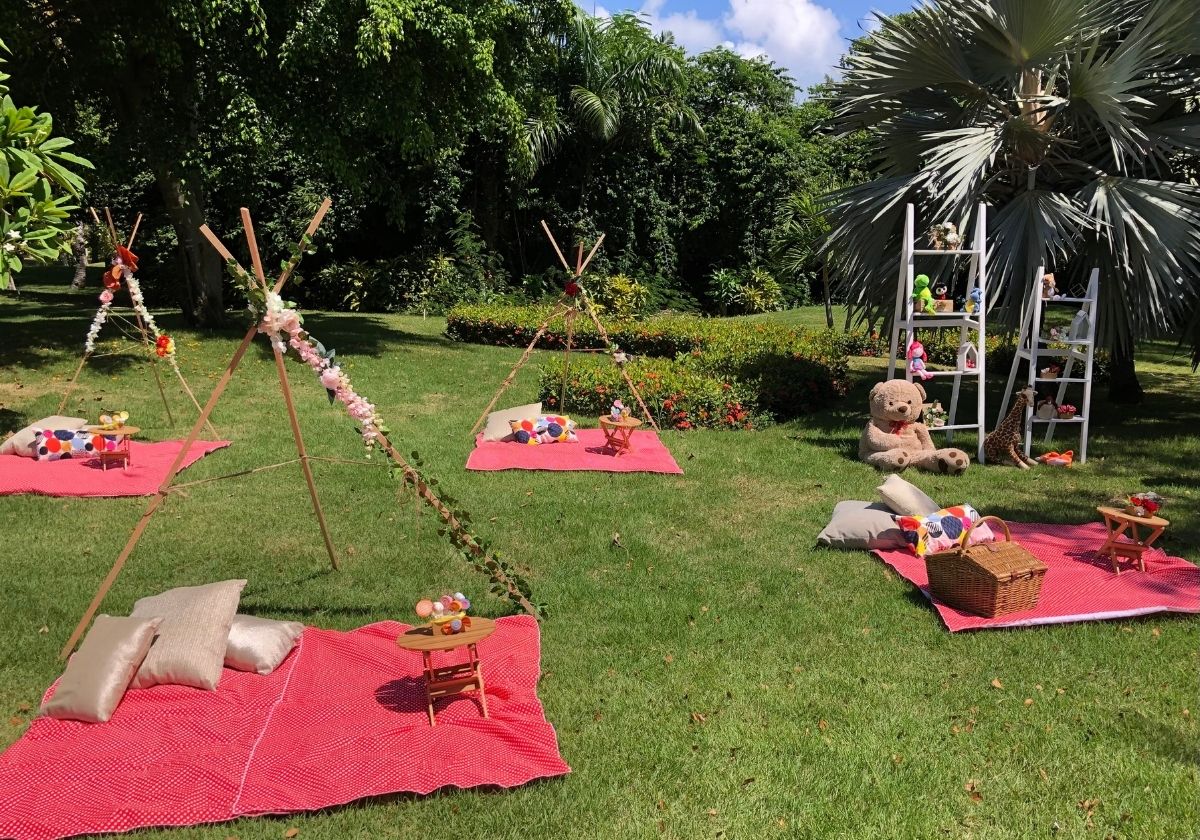 When it comes to dining at Meliá Caribe Beach Resort, the options seem endless! I was there a little over three days and dined at just a fraction of the restaurants available because there were so many choices. The resort boasts numerous excellent restaurants for breakfast, lunch, and dinner. Need a snack mid-day? Hit up one of the poolside or beachside grills for snackables, or made-to-order burgers, sandwiches, and more. Room service is also available if you want to grab something to eat late after putting the kiddos to bed.
The best part about the dining options is that there is something for everyone. Fine dining is available for the adults, with more kid-friendly buffets and menu options available for the kids. Desserts are abundant, which would thrill my daughter!
Of course, my absolute favorite feature of Meliá Caribe Beach Resort was the beach itself. I spent one entire day of my trip ocean-front, enjoying beach-cabana life. I read a book, purchased small gifts from the beach vendors, enjoyed bottomless margaritas and beers, snacked on fresh guacamole, and left all my troubles behind. It was glorious. The beaches at Meliá Caribe Beach Resort are well maintained and seaweed-free, and the water is perfect for cooling off from the Punta Cana sun. I'm still dreaming of the white sand and salty margaritas.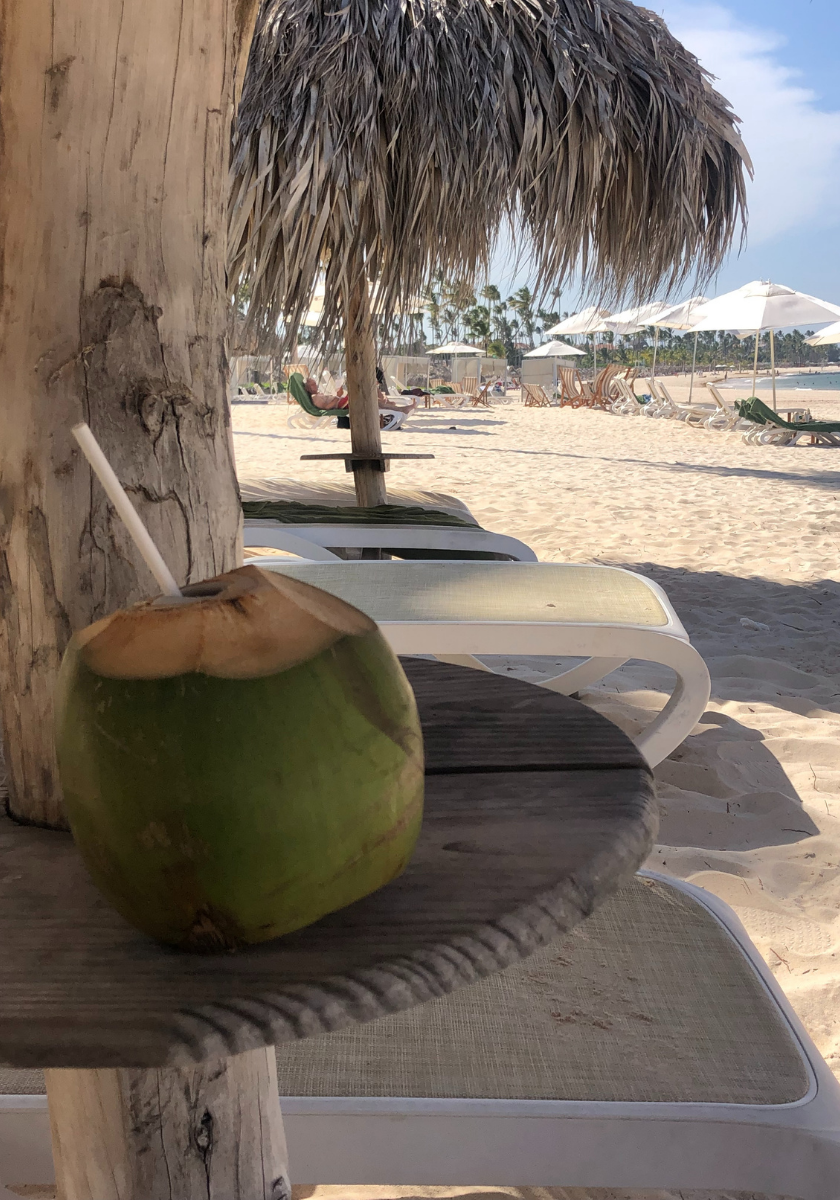 Now, I'm back to reality, and my trip to Meliá Caribe Beach feels a bit like it was a dream. I feel so blessed to have had the opportunity to visit. My family has what we call our Family Wanderlust Bucket List, where we keep track of all the places we want to travel and have traveled to. Meliá Caribe Beach Resort in Punta Cana, Dominican Republic definitely earned a spot on our list, and I hope to return with my family in tow.
Thanks to the incredible the staff at Meliá Caribe Beach for your first class hospitality, and the team at Alliance who made it all possible. If you want more info about my trip, please shoot me a message! I'd be happy to share more details and tips for traveling to the Dominican Republic. You can reach me at melissabasgall@macaronikid.com or send me a message on social media! See below for a few more photos, and a recap video!
I was hosted by Meliá Caribe Beach, but all opinions are my own.